Cruising the Canadian Arctic – A Learning Experience
"Be sure to take shorts and a bathing suit" my friend who had already sailed on the Arctic Expedition, I was about to take, told me.
"You have to be kidding," I scoffed. "I'm going to see polar bears, not act like them."   I packed shorts and a bathing suit.
Like most people, my image of the Arctic was ice and snow, Eskimos and igloos.  In other words – cold.   When I began planning for this cruise, I knew next to nothing about the Canadian Arctic where my cruise would take me.  I was not alone, I learned.  Most people, including many Canadians, have only the vaguest notion about the area, even its location.  Thankfully, my cruise line, Cruise North Expeditions, sent me useful information, including maps, to start me on my learning experience.
Created in 2007, Cruise North Expeditions was owned and operated by Inuits, the native population of the Canadian Arctic who we call Eskimos. In 2011, the cruise company was purchased by and became a branch of Adventure Canada, the leading company offering adventure cruises in the Canadian Arctic. One of the Cruise North Expeditions' attractions is its Inuit expedition staff and the opportunity its cruises provide to meet and interact with local people.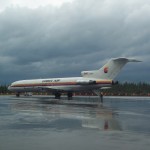 I took on blind faith that the airline, First Air, would get me from Montreal to Kuujjuaq, the cruise's starting place located 914 miles directly north of Montreal.  Only later did I learn that this airline, which is owned by Makivik Corporation, an Inuit investment company, has been in operation for over 55 years and is the most profitable private airline in Canada.
As the plane approached the Kuujjuaq region, I was surprised to see soft hills and wide valleys covered with boreal forest — evergreens, mainly black spruce — for as far as the eye could see, interspersed with big and small lakes where the winter snow had melted. There were no buildings, no houses and no roads in the landscape until a few minutes before the plane began its landing. Any idea I might have had that the Arctic was similar to Antarctica was quickly dispelled.
The 2 hour 15 minute flight which, until now, had been very smooth, suddenly ran into strong winds that tossed the plane up and down and sideways.  Nonetheless, the plane made a perfect landing – in a driving rain – on a runway built by the United States during World War II for a refueling station between North America and Europe.
Kuujjuaq (pop. 2,500), the main town and commercial center of Nunavik, the northernmost district of Quebec Province, sits on the Koksoak River at the tree line,  a few hundred miles below the North Pole. The region is heavily dependent on the airline, as there are no roads to the region and sea lanes are opened only about four months of the year. Kuujjuaq, which got high speed Internet in 2007, is a rather new town where most people work for the government in health, education, and service jobs.
At the airport, we were greeted by the cruise line's expedition staff who very efficiently disappeared with our luggage (to be found later in our shipboard cabins). By the time passengers were ready to board a school bus for a tour of Kuujjuaq, the rain had stopped. But instead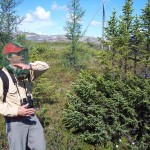 of rain,  we were pelted by quarter-size mosquitoes.  Some people who had had the sense to carry insect repellent with them (mine was in my suitcase) shared theirs generously.  A few had brought safari hats trimmed with mosquito netting – another good idea.
Our tour provided a quick glimpse of the town en route to the town community center where we had a sandwich lunch, looked over Inuit paintings and craft by local town folks, and were entertained with drum dancing and throat-singing by the Kuujjuaq Youth Choir.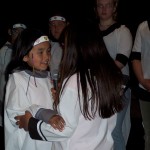 The group, ranging in age from 5 to 18, was made up of 18 young Inuit whose features ran from blonde, blue-eyed European to deep golden brown, Asian moon faces. Throat singing, we were told, imitates the sounds in nature and, in bygone days, was a pastime and competition for women while their men were out hunting. We were also treated to some Inuit athletic feats by Alex Ero, a medalist at the 2006 Arctic Winter Games.
                                               Who are Inuits?
Experts do not agree on the origins of the Arctic people or when they came to Eastern Canada. The common theory is they were originally from Mongolia and as proof, note the black spot at the end of their spine — an unusual characteristic that Inuits share with the people of Mongolia. Their language, Inuktitut, is one of three indigenous languages still spoken as the mother tongue in Canada. The Inuit written language was created in 1890 by a Christian missionary using Greg shorthand.            
Please do not call Inuits, "Indians." Historically, Canada's native Indians tribes were Inuits' mortal enemies with whom they fought for centuries. Historians theorize that the fearsome Indians were the reason Inuits remained in the Arctic region, despite its severe hardships, rather than venture south to the less-harsh sub-Arctic regions inhabited by Indian tribes. 
Our town tour ended at the wharf where Zodiacs awaited us for the short ride to our ship, a renovated Russian ice-strengthened vessel under charter by the cruise company.  The first piece of advice that our seasoned expedition leader gave us was to expect the unexpected. "We have an itinerary, but consider it tentative," he cautioned, "Mother Nature, not our captain, controls the agenda in the Arctic."
Fortunately, we had great weather almost every day, but low tides ruled our departure on the first day and icebergs, thick fog, ice floes, sea swells, and heavy winds set our schedule on others.  It was not unusual to awaken to cold, blistery wet winds and fog in the morning and have clear blue, warm, sunny skies by noon.
Our daily pattern was typical of expedition cruises: We were awakened at 6:30 a.m. with a weather report; breakfast at 7:00 a.m.; and boarded the Zodiacs to depart for the day's outing by 8:00 a.m. We dressed in layers, always prepared for a wet landing with waterproof boots, rain pants and windbreaker. One day, a parka felt very good.
Our route: Fort Chino, Ungava Bay, Killiniq, Button Islands 
On the first day, we crossed the KoksoakRiver to FortChimo, the original Hudson Bay trading post established in the early 17th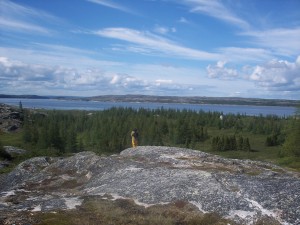 century.  On a walk along a hillside behind the old settlement, the
In addition to a daily wrapped and next day briefing (all very well attended by the passengers), we had a lecture by one of the Expedition staff every evening and often during the day.  Inuit members told us about their culture and gave us insights into their society – a society in transition, adjusting from the traditional life of Eskimos to life in modern Canada.  Our Arctic specialists talked about the ecology, birds and manuals, particularly those that we would see – polar bears, seals, whales, walrus, muskox, caribou.  Our historian reviewed the region's history, particularly the impact of European traders and the explorers searching for a Northwest passage.
On several nights we watched some excellent films, including "Nanook of the North," the classic, award-winning feature that vividly portrays the difficult life and extreme hardship that Inuits endured early in the last century; and "Climate On The Edge," a documentary on the effects of climate change in the Arctic by the National Film Board of Canada.  Afternoons and evenings also found many passengers in the small library pouring over books on Inuit art and history or Arctic flora and fauna they saw during the day's adventure.
We sailed through Ungava Bay to Killiniq (Port Burwell), the northern point where Nunavik shares a border with Labrador.  Killiniq has the ruins of an abandoned Moravian community and a cemetery marked by small white wooden crosses. We hiked over the rocky hills worn by millennia of ice where a host of pink and yellow flowers were in bloom. On nearby ButtonIslands we watched three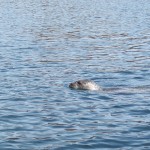 types of seals bopping their heads in the water and saw our first polar bear meandering along the rocky hills. The noise of our Zodiacs startled the bear as he headed for the hills, but suddenly changed his mind and made a fast retreat into the water. We waited awhile watching him swim along the coast and hoping he would return to the land, but no such luck. This was the first of our five polar bear encounters — none close. Passengers on other Arctic cruises have been luckier, sometimes seeing a dozen bears at one time and as close as 60 feet.
Half of the world's polar bears live in Canada and their numbers are dwindling at a shocking rate, mostly due to the radical change in the Arctic's climate as a result of global warming. Polar bear, weighing up to 1,400 pounds (males) and 600 pounds (female), hunt their food – mainly seals – from ice floes. But now, the ice is melting so much earlier each year that these majestic animals are unable to hunt long enough to store the food they need to last them through the Arctic's severe winters.
We made our way back to the ship through a channel and across a rough sea of fast currents and high swells. The weather had changed completely with a strong, cold wind and choppy sea.  By the time we got back to the ship, we were chilled to the bone, having gotten soaked from spray. My left hand, which I had used to hold on to the Zodiac rope, was beet red when I peeled away my cold, soaked glove. Hot chocolate and tea (always available in the library) never tasted so good.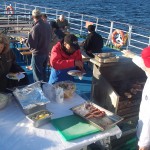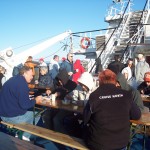 That evening, the ship prepared a barbecue outdoors on the observation deck – probably not the most ideal weather for it, but the passengers were good sports and with chattering teeth we enjoyed grilled Arctic char and caribou steaks. The cuisine throughout the cruise was varied, plentiful and good, and sometimes, very good.
Our Route: Lower Savage Island, Nannuk Harbor, Baffin Island  
For the next five days, we made our way north up the Hudson Strait, stopping at Lower Savage Island off the south coast of Baffin Island. In a cove a Ring seal hung around our boats for the whole time we were there, bopping his cute little head, playing hid and seek with us. We moved on into another inlet where the region's first inhabitants, the Thule (origin unknown), built a small settlement about a thousand years ago. The weather was beautiful, the setting magnificent overlooking a sea as calm as a lake and surrounded by walls of rock up to 300 feet or more. When we arrived, Jacko, one of our rife-toting Inuit guides, raced to the top of the ridge as a lookout for polar bear, while Alex, another rifle-bearing Inuit, took a zig-zag route up another rock wall to stand guard. No bears showed up – darn it.
In the afternoon, we sailed to NannukHarbor (it's actually a fjord).  Nannuk means "polar bear" in the Inuit language, and indeed, a polar bear was spotted briefly before he disappeared over a ridge. When the weather began to change, we decided to head back to the ship early, remembering the bitter cold of the previous day. But we got an unexpected reward when we came upon fields of stranded icebergs. Their white forms against a very blue sky and surrounded by clear aqua and deep turquoise waters made a gorgeous setting and set the shutterbugs among us into a shooting frenzy.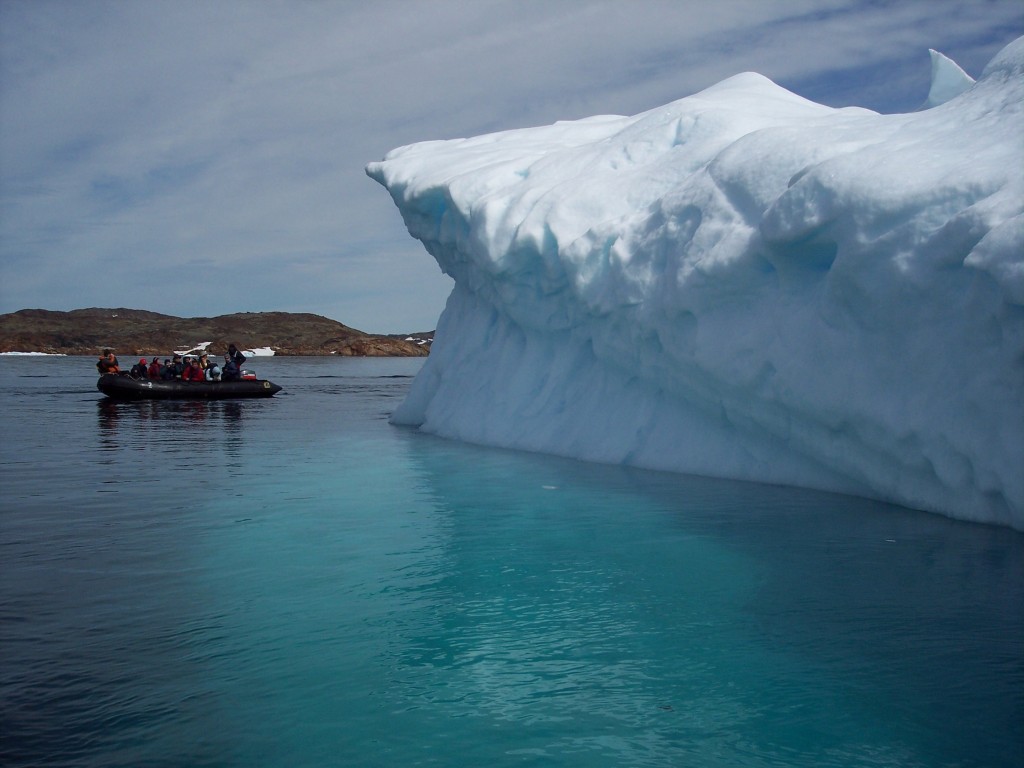 At Kimmirut (pop. 400) on the coast of Baffin Island we were met by many townspeople, some of whom acted as our guides, and a bevy of children, often with soapstone carvings they shyly offered for sale. Kimmirut was once an important trading port, but now, it has a new promise of wealth. Rubies and sapphires are being mined only two miles from town. At the Sopher Gallery, sample gems are on display, along with a fine collection of soapstone carvings, an art for which the Inuit are famous.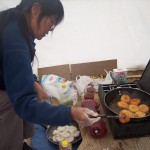 After viewing exhibits on the region's history and culture at the Kimmirut Information Centre, we split into small groups for a walking tour of town with local guides. Nearby, we were invited into a tent to watch a women making traditional bannock (a staple similar to donuts) which we sampled, and another removing the blubber from a seal skin using an uluk, the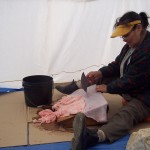 traditional Inuit working knife.
At the community center we gathered for a box lunch and cultural presentation in which the ship's Inuit staff participated. After lunch, some took a short walk up the hill behind town overlooking the airport runway and passing historic monuments; others chose a longer hike to SoperLake and the ReversingFalls, enjoying views of the splendid landscape of southern Baffin Island and adding to our bird list.
Our Route: Cape Dorset, Douglas Harbour, Diana and Akpatok Islands 
Slowed down by strong currents and winds, we did not reach CapeDorset until the afternoon. Our zodiacs were again met by community representatives, guides and local children. This time we were divided into hikers and shoppers. The hikers investigated the region outside of the village, while the others toured the town, visiting the town hotel and offices of the famous Canadian Mounted Police.
We ended our walk at the Print Shop, where outstanding works by local artists are on display. The shop's director explained the printing technique while we watched an artist at work. Contemporary Inuit art is only 65 years old.  In addition to large prints and posters, the shop sells calendars, stationary, and gift items that reproduce the works by winners of the region's annual art contests. The shop also has a large collection of high quality stone carvings.
From CapeDorset, we turned south where blue skies and a warm sun greeted our arrival into DouglasHarbor, a fjord.  According to our expedition staff, we were the first tourists to visit here, heightening our sense of adventure. As our zodiacs coasted along the hilly shores to a wide valley we saw groups of grazing caribou, small flocks of seabirds, and to our surprise, the equipment for a nickel mining operation.
The majority of our group, led by an expedition staff member, hiked through the valley and along a seasonal river bed.  I poked along to take photos of Arctic flora and watch some caribou grazing nearby. I was walking back toward the shore to our waiting Zodiacs when suddenly, one of the caribou with handsome huge antlers turned and began walking toward me. I stopped dead in my tracks, not knowing what to do. Had my red parka attracted him? Was he just curious?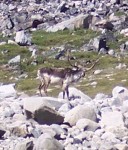 From the corner of my eye, I could see Alex, one of our Inuit escorts, slowly remove his rifle that had been slung over his shoulder. "The last thing I want, I thought to myself, is to be in the line of fire."  I began to back away to where the hiker group was approaching, carefully watching as my new found, caribou friend came closer. Then, with a great sigh of relief, I saw him stop, look around, and turn back to join the other caribou grazing nearby.
For our visit to Diana Island, we were up at five a.m. and boarded the Zodiacs before breakfast. Upon arrival, we quickly spotted a small group of muskox, a huge shaggy-coated wild ox, grazing on the rugged terrain. We hiked around the headland to find more muskox. A Rough-legged hawk hovered over the hills; in the meadow, we spotted a pair of Semi-palmated Plovers and White American Pipits flitted through the crisp air. Across the valley, a family of Canada Geese kept their distance and a small herd of caribou grazed high on the hill. On the rocks, here and there, we found clumps of qiviut, the long under hair of the muskox which feels softer than cashmere.
By the time our ship reached AkpatokIsland, an uninhabited outcropping of 700 foot-high cliffs seemingly in the middle of nowhere, the weather had closed in. We spotted two polar bears on the beach but unfortunately, we could not land due to heavy swells and gusting winds. Akpatok is best known for its huge colony of Thick-billed Murre.  More than 30,000 breeding pairs nest on its cliffs. The small birds' black and white markings are so similar to penguin, it's easy to think of them as distant relatives (the Arctic has no penguin).
On the last night of the cruise, we enjoyed a show of passengers' photographs, which enabled us to review and relive the week's adventure in the land of the Inuit. By the time we arrived back in Kuujjuaq, our cruise had covered 1,300 nautical miles. Before heading to the airport, we had time to check out a local supermarket – a window on the high cost of living in the region where a quart of milk costs $6.50.  Smoked Arctic char, however, is not expensive and is sold in sealed packages like smoked salmon — making a great gift to take home.
Oh, about my swimsuit. Several days were quite warm with the temperature as high as 70 degrees, but with icebergs in the water, I decided to leave the Arctic waters to the polar bears.
Some tips for preparing for the cruise:    
     – Waterproof high boots, rain pants are a must, and so too are rubber gloves (the kitchen variety work fine).  The ship does not provide boots.
     – Insect repellent and a cap with netting or, a yard square of mosquito netting anchored by a baseball cap or wool cap.  
     – Pack with layers — silk, cotton, wool and in that order – in mind.
     – windbreaker and parka 
The Ship:  SeaAdventurer, with ice-strengthened hull, was built in 1975, refurbished and upgraded in 1998. She has 61 outside cabins, most with two lower berths and porthole. They have small private bath with shower and furnished with chest of drawers and ample closet space. Cabins on the upper deck open onto the deck. Public rooms, situated on one deck, include a forward lounge, small bar, and library.  The window-lined dining room accommodates all passengers at one seating.  An aft observation deck and wide promenades are excellent for viewing wildlife and passing scenery.
 Adventure Canada/Cruise North Expeditions, 14 Front Street S;  Mississauga, ON, L5H 2C4, Canada; Tel. (800) 363-7566; (905)271-4000;  Fax. (905) 271-5595; www.cruisenorthexpeditions.com;info@cruisenorthexpeditions.com 
In addition to the Canadian Arctic, Adventure Canada offers itineraries as wide ranging as New Zealand or Antarctica in the winter season; Ireland or Scotland or the Galapagos in the spring;  and Greenland, North Pole, or Northwest Passage in summer.  It also offers land excursions, like Santa Fe in the U.S. or the Trans-Siberian Express in Russia, and special interest, like photograph.   All cruises feature an expedition team and lectures by naturalists, historians and ornithologists.  A series of 10 to 17 night Arctic cruises are available from June to September. Prices start at about US$1,700  per person, double occupancy. Reservations can be made through travel agents or Adventure Canada at 1-855-5-Arctic (1-855-527-2842. 
© by Kay Showker