Alaska, Cruising to the Last Frontier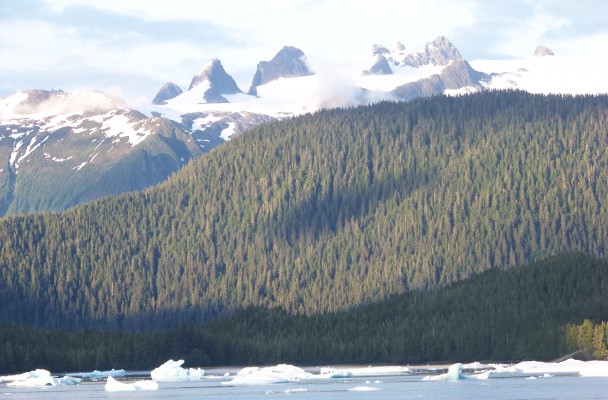 In the world of travel, few excursions bring on a sense of wonder more than an Alaska cruise.  So strong is the legend of our remote land that the very mention of its name conjures up images of fields of ice and moun­tains of snow, Eskimos and igloos, huskies and dog sleds.
Indeed, it is hard for anyone to imagine what Alaska is really like, no matter how many books you read, pictures you see or maps you study — even though it helps to do all three before set­ting out on a voyage.
Alaska is almost sure to surprise you.  It is not the endless miles of snow you might have im­agined, particularly in the southeastern region of the state where most ships cruise.  During the cruise season, this area of Alaska is very green and many days are warm enough for sunbathing. Glacier Bay, believe it or not, lies entirely in the temperate zone.
Alaska might even disappoint you, since during your cruise you are not likely to see even one igloo or Eskimo (but you will see many Alaskan Natives, as we know them today) and the salmon for which the state is famous costs as much in Alaska as in the Lower 48.
But if Alaska surprises or disappoints, it also inspires and overwhelms.  It is an outdoor wonderland of wildlife and virgin, undis­turbed landscape of unsurpassed beauty and grandeur that looks as the earth must have been on the day of creation.  Its impression on the mind's eye is indelible.
Equally as lasting, even haunting, a memory is the sense of isolation and loneliness of frontier life.  Despite its romanticized image, Alaska is not an easy place to live in.  Most people are happy to be only spectators.
Cruises to Alaska begin in mid-May and con­tinue through October. The most popular (and most costly) de­partures are in August because of the generally favorable weather.  But you need not hesitate to go in May, June or September.  In my experience, the weather can be wonderful and normally, the prices are lower.
Generally, cruise lines offer one-week voyages departing from Van­couver, British Columbia or Seattle, Washington for northbound cruises or Anchorage for the southbound ones; ten day to two-week cruises usually leave from San Francisco.  If you are limited by time or funds, you can opt for the short cruise without missing any of the Alaska portion of the voyage.  Most cruise lines also offer an extension of their cruises for visits to inland Alaska.
First Stop: Ketchikan
Typically, a 7-day cruise from Vancouver continues north through the Inside Passage, a 1,000-mile waterway along the Canadian coast dotted with islands, to Ketchikan, the first port of call in Alaska.
Ketchikan, which was founded in 1885, is the state's fourth largest town. Situated on an island on the TongassNarrows and surrounded by tree-covered mountains rising to 4,000 feet, this town is isolated even in summer due to its location.
Now an important logging and fishing center, Ketchikan was once a rough mining town that helped to create the Alaska image. On the ships' city tour, visitors pass Dolly's House, the most famous spot in the town's once-notorious red-light district. Here a street sign reads: Creek Street was for 50 years the most infamous red light district in Alaska. It is said that it is the only place in the world where both the fish and the fisherman went upstream to spawn.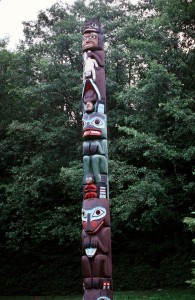 The excursion also takes in the town's cultural history with stops at the Heritage Center, which has an impressive collection of old totem poles; the Tongass National Forest; and Totem Bight State Park, formerly an Alaskan Native campsite at the water's edge.  The park has a replica of a ceremonial center with the traditional Clan House built of giant logs and totem poles cov­ered with brightly colored designs of Alaskan lore, which local guides explain.
Since Ketchikan is known as the salmon capital of Alaska, another tour, appropriately, enables passengers to learn about salmon breeding at a salmon hatchery and to enjoy a salmon bake.
Other options likely to be offered in Ketchikan are ziplining in the rainforest, a fishing trip, or a flight over Misty Fjords, one of the nation's newest national mon­uments, established in 1978.  Most charter fishing boats take six to eight people on a four-hour ex­cursion to fish for salmon, halibut and other species in protected waters surrounded by lovely scenery of thickly-wooded mountains.
The Misty Fjords flight sweeps over virgin forests and sheer granite rocks that tower 4,000 feet.  It lands on a mountain lake where pas­sengers have a few moments to enjoy the seren­ity of the wilderness. "It was so quiet you could hear the silence," one passenger on my trip remarked.
Next Up: Juneau
From Ketchikan, it's an overnight sail to Juneau, the capital of Alaska.  As with many towns of the region, Juneau sprang to life when gold was discovered here in 1880.  In addition to being accessible only by air and sea, Juneau has the distinction of being the largest (in area) state capital in the nation. It's also the only one with a glacier in its backyard.  The Mendenhall Glacier is 15 miles from the center of town.
Among the tours available is a visit to the House of Wickersham, the home of Judge James Wickersham, known as the father of Alaska. The memorabilia-filled home is said to be the first big house built in Alaska under the American flag.
Depending on your cruise line, you will probably be offered a choice of flightseeing excursions over the ice cap north of Juneau.  Any  could leave you with your most lasting memories of our 49th state.  One flight might
touch down at Taku Glacier Lodge, a remote inn situated only a half-mile from the face of Taku Glacier .  Here, visitors enjoy a salmon bake beside a crackling fire and a guided nature walk.  While you are there, chances are you will be visited by a bear who likes a salmon bake, too.
A shorter excursion, no less spectacular, flies over the ice cap in a 45-minute flight that leaves directly from shipside. The float plane takes off over the waters of Gastineau Channel, skimming the tops of the thick, virgin forests and then heads east over the Taku Glacier and Juneau Ice Field.
In this panorama, it's possible to understand how the glaciers move, to trace the different stages of their development and reces­sion, and to see the succession of vegetation as the glaciers recede.
I would put a flightseeing excur­sion at the top of your list.  It's not cheap but it's worth every penny.  Normally, space is very limited; you need to book early.  The site http://www.wingsairways.com/flight-and-feast-tour.html has a very good video of the Taku Glacier tour.
There is time during the Juneau stopover to take the short flightseeing as well as a city tour to the AlaskaHistoricalMuseum and a lovely log cabin chapel overlooking AukeLake north of town.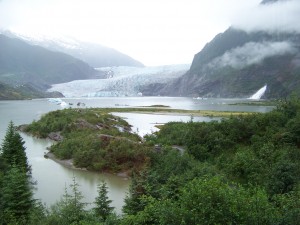 The tour's highlight is a drive to the Mendenhall Glacier.  At the visitor's lodge overlooking the glacier, you'll hear a brief talk and study a relief map which shows how much the glacier has receded in only the past half-century [sadly, too much].  On a jut of land in front of the lodge, you can stand face to face with this mammoth phenomenon less than a half-mile away. Don't forget to bring binoculars.  For really close-up shots of the glacier wall, you'll want a telephoto lens.
Streams of water that flow from the glacier teem with salmon. You can stand as close as two feet from the fish, watching them make their life-cycle-end swim upstream to spawn and die.
Into Glacier Bay
From Juneau, the ship sails north to Glacier Bay, one of the highlight of the cruise. In the evening before your ship arrives at Glacier Bay, a staff member or an invited expert is likely to chart the route on a large map and
brief passengers on what to expect.  At the entrance of the bay, rangers from the National Park Ser­vice (under whose jurisdiction the bay falls) board the ship to be with passengers during the entire day in the bay.  Through­out the day, your ranger lectures on the glaciers, wildlife and ecology of the bay and is available to answer questions.
If nature in the raw is the quintessence of the Alaska experience, then the glaciers are its most awesome show. In addition to Glacier Bay, some cruise ships sail further north to Hubbard Glacier or to College Fjord which are even more spectacular.  Once the ship enters the glacier's waters, almost everything else seen on the cruise pales by comparison.  You might wonder how massive fields of ice could be so fascinating, but you quickly learn that glaciers have a life of their own, constantly mov­ing and changing.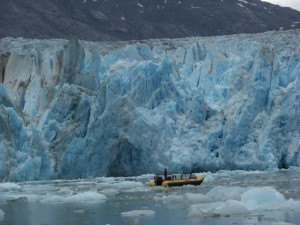 Often when your ship arrives a short distance from the face of a glacier, a gigantic mass of ice will break away from the face and plunged several hundred feet into the water, as though a special-effects man, responding on cue to the stage director, had signaled your arrival. Throughout the day, the ship proceeds slowly through the bay to view different ice formations.  These maneuvers depend on weather and sea conditions – and the movement of whales in the bay.  Your ship will not know in advance precisely which part of the bay she will be allowed to visit.
Viewing the different sites is an aid to understanding the ice mass, as you learn to differentiate their age, shape and direction. You also have the chance to learn about plant and animal life in this environment.
About mid-day, a lifeboat might be low­ered into the bay and several crew members will go along to capture a large piece of ice which had broken away from the glacier. Passengers enjoy watching the crew struggle with its slippery catch, but more important, their movements helped you gain a greater perspective on the distance and size of the glacier wall. By the time the small boat reaches the ice, it is a dot on the landscape.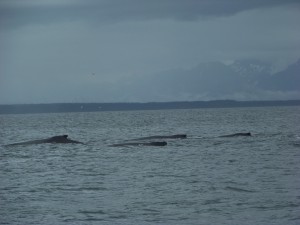 You are likely to spotted humpback whales swimming  through the water of the bay.  After a concerted effort by the Park Service to protect this endangered species and keep ships away from them, whale  numbers in the bay, which is their feeding ground, have stabilized.  There is no conclusive evidence but scientists be­lieve that the noise of the ships may interfere with the whales' life cycle.
From Glacier Bay, some ship detour to Skagway where they might journey to the Klondike Gold Fields and try their hand at gold panning or take a boat ride in the Chikat Bald Eagle Preserve.  Many cruise ships stop at Sitka, the site of the Russians' first discovery of Alaska in 1741.  Just over a century later in 1867, the United States signed a treaty here for the purchase of the territory (at about two cents an acre) and Sitka became the first capital of the ter­ritorial government.
Today, Sitka is a logging center, fishing port and resort with one of the love­liest settings in Alaska.  Its most his­toric building, St. Michael's Cathed­ral built in 1848, was rebuilt after a fire in 1966, destroyed most of the original structure.  Fortunately, the church's many priceless treasures were saved.  Even more interesting is Sheldon Jackson Museum, situated on the campus of the college named after an early missionary.  The museum, begun in 1888, has the oldest and one of the finest collections of Alaskan Native artifacts in Alaska.
Another stop you'll want to make is the famous Alaska Raptor Center, a non-profit, volunteer-run operation that is Alaska's foremost bald eagle hospital and educational center.  Here annually, medical treatment is provided to 100 to 200 injured bald eagles and other birds.  Situated on 17-acres bordering the Tongass National Forest, the Center's goal is to release the birds back into the wild; some, however, are injured so severely they would not survive even after rehabilitation.  These birds — including bald and golden eagles, hawks, falcons and owls — usually join Raptors-in-Residence which provides an exciting element and education for thousands of visitors and schoolchildren. The center has an Adopt-A-Raptor  program, too. Open May- September for visitors, 8:00 a.m. to 4:00 p.m.  Admission: $12, adult; $6 child under 12.  The Center's web site www.alaskaraptor.org/a offers an excellent walking map of Sitka with a scenic route through Sitka National Historical Park.
Another stop on the voyage might be enchanting Victoria Island across the channel from Vancouver and famous for its gardens, particularly the spectacular Butchart Gardens which are over 100 years old.  It will be one of the highlights of your cruise.
Cruise Lines with Alaska Itineraries
Most major cruise lines (a list is provided at the end of this article) offer Alaska cruises and their itineraries are similar.  Holland America Line and Princess have been providing Alaska cruises longer than almost any of the other lines.  Their cruises, mainly 7-day itineraries, leave from Seattle or Van­couver for the northbound voyage and from Anchorage or Steward for the southbound one.  Brochure prices range from $1,599 for an inside cabin to $4,099 or more for a verandah suite. However, with an Internet search , you will uncover cruises for half these prices depending on the itinerary and date.
All cruise lines offer, for an additional cost, a wide variety of sightseeing and adventure excursions ranging from city tours to such adventures as Bike & Hike in Sitka, Rock Climbing & Rappeling in Skagway, River rafting, Fly fishing, and even golf. You can purchase tours on the cruise line web site. Because of limited transportation facilities in many places, space on some tours is limited and the most popular ones fill up quickly. It's im­portant to have a clear idea which excursions you want to take and preferably, to book them online in advance.
Both Holland America and Princess have excellent land tour extensions of their cruises taken by motorcoach or train with bubbletops for great viewing.  Princess Cruises also has a group of deluxe lodges for overnight stays on their rail tours to Denali National Park with Mount McKinley and  home to the greatest wildlife in the U.S.   Generally, Cruise-Tours start at about $2,299 for a 10-day package.
Alaska cruises by companies with small ships (see list) off a very different experience, mainly because their ships can sail into wilderness areas inaccessible to large ones and offer a more up-close experience. These cruises frequently have specialists onboard who give lectures and commentary daily and usually accompany passengers on tours which are included in the cruise prices.  Thus, these cruises, due to their all-inclusive nature, appear to be more expensive than large ship ones.
A tip about clothing: Be pre­pared for both cold and warm weath­er, similar to a late New England autumn. Plan to dress in layers.  You'll shed the top layer during sunny days and add them in the evening and on rainy days.
American Cruise Lines (www.americancruiselines.com) specializes in small-ship sailing in Alaska and on rivers and inland waterways of the continental United States.
Alaskan Dream Cruises (www.americandreamcruises.com), owned and operated by Tlingit-Alaska Natives, is a rather new cruise line and offers Alaska cruises on small ship from its base in Sitka.
Carnival Cruise Line (www.carnival.com) offers round-the-clock high energy "Fun Ships" experience on large ships.
Celebrity Cruise Line (www.celebritycruises.com) , a premium cruise line, is known for its cuisine and good service in a sophisticated ambience on mid/large ships.
Costa Cruise Line's (www.costacruises.com) cruising "Italian-style" emphasizes its Italian heritage with a festive atmosphere onboard, Mediterranean cuisine and entertainment.
Disney Cruise Line (www.disneycruises.com), designed primarily for families, has extensive kids programs and great Disney entertainment.
Holland America Line (www.hollandamerica.com) offers traditional cruising updated. Its elegantly-appointed ships showcase fine art and antiques. It sails worldwide but has been a pioneer in Alaska.
Lindblad Expeditions' (www.expeditions.com) small ships specialize in off-beat expedition-style adventure in cooperation with National Geographic and strong on environmental issues.
Norwegian Cruise Line (www.ncl.com) has a fleet of comfortable, easy-to-like large ships and the first to offer Freestyle Cruising enabling passengers to dine when, where, and with whom they wish.
Oceania Cruise Line's (www.oceaniacruises.com) mid-size ships have a country club ambience that's elegant and relaxing at the same time. Cuisine and service are on par with more expensive, luxury lines.
Princess Cruise Line (www.princess.com) sails worldwide with large ships offering tremendous variety of dining, entertainment and activities. A major line in Alaska, Princess has its own lodges used on its cruise-land excursions.
Regent Seven Seas Cruises (www.theregentexperience.com), an all-inclusive luxury line with very spacious mid-size ships, sails on varied itineraries that include shore excursions in the price.
Royal Caribbean International (www.royalcaribbean.com) has a fleet of innovative ships, including the largest cruise ships afloat with non-stop activity and entertainment sailing to popular destinations worldwide.
Silversea Cruise Line (www.silverseas.com) offers small, luxury all-suite ships with sophisticate cuisine and polished service sailing on worldwide itineraries.
Un-Cruise Aventures (www.un-cruise.com), formerly InnerSea Discoveries; American Safari Cruises, has a fleet of eight small ships sailing on active and heritage-oriented adventures. In addition to Alaska, it sails to Hawaii, Sea of Cortés, Columbia & Snake Rivers, among others.
© by Kay Showker