Ten & more Caribbean Beaches Easy to Love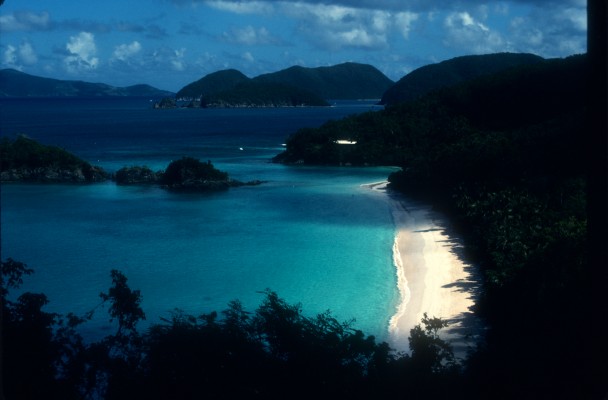 Miles of dreamy white sand beaches edge almost every island in the Caribbean but to pick the ten best is a good way to start an argument since every aficionado has a favorite. Instead, here are ten wonderful beaches that almost guarantee love at first sight.  Overhead puffy white clouds make the sun dance in and out and usually there's a soft breeze. But don't be too confident and don't forget your sunblock.
ANGUILLA
Rendezvous Bay   The small island of Anguilla, a short boat ride from St. Maarten, is famous for its 36 glorious beaches.  Shoal Bay East always gets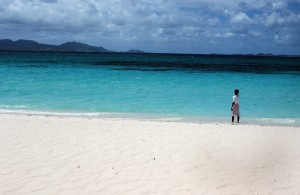 named among the world's top beaches, but personally, my vote goes to Rendezvous Bay, a half-moon sweep of powdery white sand washed by quiet, gin-clear water on the island's southwest coast with a view of St. Martin across the bay.  It has not, as yet, been overwhelmed by big development.
What You'll Find   Rendezvous is the best walking beach on Anguilla.  The water is not only clear but usually very gentle.  It's quiet with fewer people than on many of the other popular beaches. The deluxe CuisinArt Golf Resort and Spa sits almost at the center.  On the west is Bankie Banx's Dune Preserve which CNN once named the best beach bar in the world!  Beyond is CuisinArt's golf course.
Down the beach in the other direction is the Sunshine Shack where you can rent a chair for about $5.  Further on, Anguilla Great House — despite its name — is a small, modest hotel of West Indian-style cottages.  And another quarter-mile east is the Rendezvous Hotel which after being battered by two hurricanes was slated to be torn down to make way for a deluxe hotel and villa development but got hit again by the world financial collapse in 2008.   There's some snorkeling around the rocks on this end of the bay.
Book To Take   A Trip to the Beach: Living on Island Time in the Caribbean is an entertaining account of the trials and tribulations of running a restaurant in Anguilla by Melinda and Robert Blandhard, the owners of Blandhard's, one of the island's leading eatery.
Music To Take   Just Cool, the newest CD of Bankie Banx, Anguilla's favorite jazz musician who has an easy-listening style, best described as reggae meets cool jazz.  Banx can often be heard, especially on weekends, at his laid-back, funky beach bar and restaurant, The Dune Preserve which gets as much praise for its food as it music and drinks.
ANTIGUA
Half Moon Bay   Shaped something like a maple leaf with fingers stretching to the Caribbean Sea on the west and the Atlantic Ocean on the east, plus a dozen or so islets scattered along the coast, Antigua claims 365 beaches – one for every day of the year.  I don't know that anyone has ever counted them but it's possible.  Selecting one is impossible.
What You'll Find   For those who prefer long stretches of sand and easy waters, Dickenson Bay, on the Caribbean coast north of St. John's, the capital, is the most convenient. It's busy with water sports vendors, low rise resorts in tropical foliage and flowers – and cruise passengers when ships are in town.  But those who like their gorgeous white sands to have wave action should head to the half-mile long Half-Moon Bay on the Atlantic side.  It's now a national park and "the best kept secret" is out. So, there's no longer a guarantee you and a couple of birds will have the beach to yourselves.
Book To Take   A Small Place by Jamaica Kincaid is a nonfiction prose piece about Antigua, where the author was born on Antigua. Only 81 pages, it has been called "a powerful text" about British colonialism, the corruption of the Antiguan government, racism, and greed. You may need a cool swim after reading this one.
Music To Take   When you want a Caribbean happy beat, Burning Flames, the island's most successful soca band and many times winner of the annual Carnival Road March title, will do the trick. But if you are in the mood for smooth Caribbean jazz, opt for the guitar of Roland Prince.
ARUBA
Arashi Beach  Only 15 miles off the coast of Venezuela, Aruba was put on the map by its famous five-mile stretch of Palm Beach, the magnet for major hotel chains – Hyatt, Marriott, Radisson, Holiday Inn, and a dozen others. What is lesser known and beautiful is Arashi Beach on the northwestern tip of the island in the shadow of the landmark California Lighthouse.
What You'll Find   It's possible that other beachcombers have found these quiet shores, but normally, they will be few.  Aruba is surrounded by coral reef. Offshore the Arashi Underwater Park is popular for snorkeling and shallow-water diving directly from the beach.  Here, you can explore Pedernales, an oil tanker from World War II in 20 to 40 feet of water, and the Antilla, a 400-foot freighter scuttled by the Germans at the start of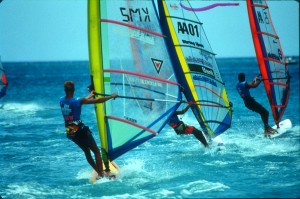 WWII, lying in two parts at 60 feet.  Just down the beach is an area known as Windsurf Village, underscoring Aruba's role as one of the leading windsurfing locations in the Caribbean.
Book to Take  An Island Away by Daniel Putkowski is a "no-holds-barred look at Aruba" revealing aspects of island life few visitors ever know, especially around San Nicolas and its red light district in the waning days of oil.
Music to Take When you want to get in the mood for Carnival, Dushi Band of Aruba is the island's foremost carnival-party band and Road March winner as well as a leading Caribbean group.
BAHAMAS
Three Mile Pink Beach With more than 700 Bahamian islands floating on the most gorgeous water imaginable, it's almost impossible to pick one or even two or three.  Cabbage Beach, despite its name, stretching more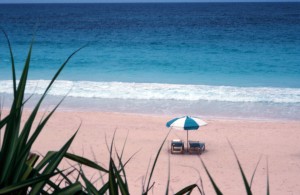 than two miles along the north coast of Paradise Island, is often name as one of the most beautiful beaches in the Bahamas, but Three Mile Pink Beach on Harbor Island is one that must be seen to be believed.
What You'll Find  Wide and with soft sand gentle on the feet, it's easy to walk the entire three miles and not see a soul – well, maybe a chair and an umbrella.  Immediately behind the beach is a ridge that hides the few resorts nestled on top.  
Book To Take   Thunderball by Ian Fleming became the third Bond film starring Sean Connery.  Many scenes were filmed at the British Colonial Hotel in Nassau, although it is never mentioned by name in the book and the airplane wreckage off the eastern end of Nassau was sunk specifically for the underwater sequences in in the film.  Today, it's a popular snorkeling and diving location.
Music To Take   Greatest Movie Hits by Baha Men. After hearing "Who Let the Dogs Out" more times than you ever wanted, you might not imagine Baha Men's playful island music has landed in a dozen or so movies and on television.
THE CAYMAN ISLANDS
Rum Point Beach   All three of the Cayman Islands have picture-perfect beaches and Seven Mile Beach, the center of resort life on Grand Cayman, is usually at the top of the list.  It's long and magnificent and yes, it stretches for seven miles just north of George Town to the West End and easy to reach. But with more and more development, it's no longer quite as idyllic as in the past.  Rum Point Beach, across North Sound on the north coast of Grand Cayman, takes more effort to reach but the reward of its beauty and tranquility makes it worth the effort.
What You'll Find   Framed by groves of Australian pines (casuarinas) and almond trees, Rum Point Beach is one of the Caribbean's most beautiful ribbons of sand.    There are picnic tables in the shade, a beach bar and restaurant, and a full-service watersports center offering snorkeling and dive excursions.  Across the mouth of North Sound lies a barrier reef and two of the Caribbean's most incredible sites: Stingray City, in only 12 feet of water, and the Sandbar, only three feet deep in some places, offer divers and snorkelers an experience not to be missed — the rare opportunity to swim with and photograph dozens of friendly stingrays.
Bus service runs from George Town to Rum Point but it's better to rent a car and enjoy the drive to the other side of Grand Cayman. Since the island is flat and has good roads, biking is popular, too. Mopeds and bikes are available for rent.
Book to Take   The Firm by John Grisham, is the tale of a Harvard law school grad — played by Tom Cruise in the film — who becomes an unknowing accomplice in a money-laundering scheme. Parts of the movie were filmed on Seven Mile Beach.
Music to Take   Barefoot Man, who has been around for quite awhile, is still turning out tunes with a mix of calypso, country, fun and rum, and bits of local gossip and history.  Sand Dollars is Barefoot Man's latest CD with 12 all new songs.   There's also an update e-book of his Which Way to the Islands.
JAMAICA
Negril Beach    Jamaica offers many possibilities — long, thin Reggae Beach or Mahogany Beach in a cove east of Ocho Rios, Frenchman's Cove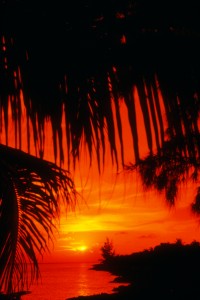 on the east coast near Port Antonio, Treasure Beach on the south coast, but you'll never find more beautiful waters than those that wash Negril Beach on the west coast – and you get fabulous sunsets, too.
What You'll Find   Negril Beach is no longer as sublime as when the flower children found it in the 1970's, but it helps that the resorts along the seven-mile strand are low rise and smothered in tropical foliage.  Snack bars and water sports vendors are available. When it's lively with partying spring breakers, you might want to try another beach, unless, of course, you are one of them or want to be one of them.
Book To Take   How Stella Got Her Groove Back by Terry McMillan was a sassy best seller and film about a successful woman, who after a messy divorce gets a new lease on life when she has a romantic encounter with a younger man in Jamaica.
Music To Take   Who else but reggae superstar, Bob Marley, to help you get your Jamaican vibes.  No Woman No Cry is a good start or Legend, his iconic 1984 album, which has now been re-imagined as Legend Remixed.
PUERTO RICO
Flamenco Beach   Puerto Rico gives you a wide choice of beaches with some in San Juan or a short distance away like Luquillo Beach, a beautiful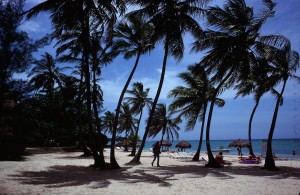 crest of palm fringed sand at the foot of El Yunque rain forest. It's the island's most popular balneario, or public beach, and crowded on weekends.  For beauty far from any crowds, take a ferry ($2.50) from Fajardo on Puerto Rico's east coast to Culebra, a miniature archipelago of about two dozen cays comprising the Culebra National Wildlife Refuge, established by President Theodore Roosevelt in 1909.
What You'll Find   Culebra (7 miles long by 5 miles wide) has a population of 1,818. In Dewey, the island's sole community, you can rent a motorbike ($45) and head to one of the most sublimely beautiful spots in the Caribbean — crescent-shaped Flamenco Beach.  Offshore reefs offer great diving and snorkeling and camping gear can be rented at Flamenco Beach or from the Culebra Bike Shop.  If you want to be captivated even more, take a water taxi from Culebra to Culebrita, a tiny nature reserve – ah, but you'll have to leave before sunset.
Book To Take   The Rum Diary by Hunter S. Thompson, tells about a journalist who looks at life in Puerto Rico along with the political events of the region.  Written in 1960's and called a "memoir masquerading as fiction," the book was not published until 1998, and became a film starring Johnny Depp.
Music To Take   Come With Me is Ricky Martin's latest hit but fans who might want more Ricky Martin by Ricky Martin (Columbia) has fourteen of his most popular tunes including "Livin' la Vida Loca."
U.S. VIRGIN ISLANDS
Our three Virgin Islands – St. Croix, St. John, St. Thomas — are as different from one another as any islands in the Caribbean, but they have one thing in common – all are scalloped by beautiful beaches with several hard to beat.
On St.Croix:  Buck Island   Sandy Point just south of Frederiksted is a gorgeous strand of porcelain beach but the leatherback turtles found it first and when they come ashore to lay their eggs, the beach is off limits.  Equally as beautiful, the 300-acre island offshore from Christiansted is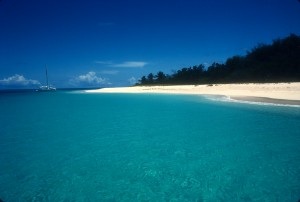 actually the Buck Island Reef National Monument (www.nps.gov/buis ), a volcanic rock  surrounded by 550 acres of underwater coral gardens of unusual beauty and scientific interest — and the only underwater park in the U.S. National Park Service.
What You'll Find    You'll need to take a boat from Christiansted for the short ride (3.5 miles) to Buck Island, but it's worth the effort for the beautiful beach and the interesting snorkeling along the underwater trail. Glass-bottom boats, catamarans, and motorboats with snorkeling equipment operate daily from King's Wharf in Christiansted. A Park Service pamphlet, usually distributed on snorkeling excursions, explains the reef and pictures some of the fish you are likely to see while swimming.  Buck Island has restrooms and picnic tables, but cooking on the beach is not permitted.
Book To Take   A Caribbean Mystery by Agatha Christi.  Miss Marple's holiday at a Caribbean resort is complicated by a murder.

Music To Take   Sonic Tonic CD includes "Your Warm Embrace" and other numbers by bop and soul-jazz, saxophonist Ron Blake, who was born in the U.S. Virgin Islands and has been influenced by the late Sonny Rollins and John Coltrane.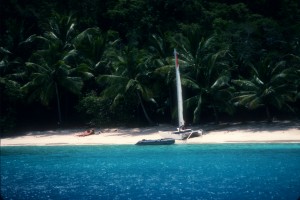 On St. John:  Honeymoon Beach   Trunk Bay is on almost every 10-Best-Beaches-in-the-Caribbean list, but a more idyllic spot than Honeymoon Beach, tucked away in a cove on St. John, would be hard to find.  Ferries leave hourly from Red Hook on the east end of St. Thomas for the ten-minute trip to Cruz Bay. There, you can rent a car or jeep or take a taxi-shuttle for the two-mile ride to Caneel Bay's parking lot, where a path leads down to the beach.
What You'll Find   Honeymoon Beach is one of the lovely beaches in the Virgin Islands National Park and the one of seven gorgeous beaches of the posh Caneel Bay Resort, that can be used by non-guests. The pocket-sized beach is all but hidden under tropical foliage climbing the hillside and palm trees bowing to the sea. It's a popular destination for small sailboats from St. Thomas, so you are likely to see a boat or two bopping in the breeze. There's snorkeling here too, and if you're lucky, you might have a chance to swim with a spotted eagle ray.
Book To Take   Caribbean by James A. Michener.  The best-selling pop historian mixes fact and fiction in this complex account of the Caribbean history.
Music To Take   Islands in the Stream, by the Bee Gees, sung by Kenny Rodgers and Dolly Parton.
On St. Thomas:  Magens Bay Beach, a lovely stretch of white sand set in a deep horseshoe-shaped cove looking over aquamarine waters, might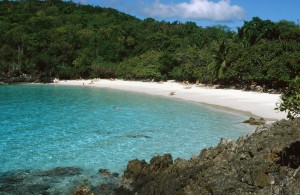 be the most famous beach in the Caribbean, having been put on the Top 10 list by National Geographic.  A minibus from town costs US$8 per rider. Entrance to the beach is $2.
What You'll Find   Usually, the beach is quiet, except on Sunday afternoons when there's a beach party with a live band and half the island seems to show up.  It's also popular with cruise ship passengers.  The watersports center, Walk on Water, (http://walkonwaterusvi.com) offers kayak rentals, paddle boats, and stand up paddle boarding (SUP).
Book To Take   Don't Stop the Carnival by Herman Wouk, is the hilarious story of a stressed-out New York executive who flees the urban rat race to run a small Caribbean hotel.
Music To Take   Saxophone Colossus by Sonny Rollins, is consider one of the greatest jazz albums ever recorded. The first track is Rollins' infectious "St. Thomas." Rollins parents came from the U.S. Virgin Islands.
© By Kay Showker