BELIZE: Caves, Reefs, Jungles, Jaguars, and Mayan Ruins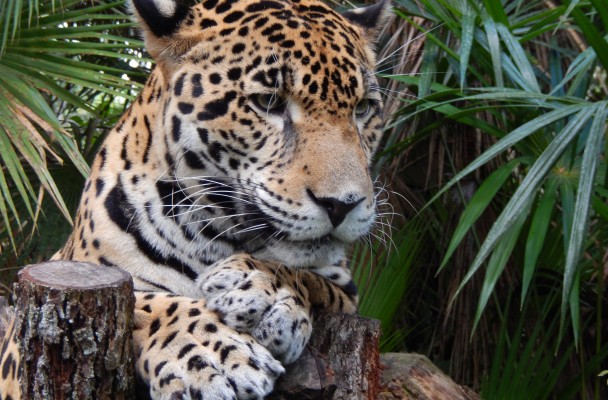 Conservation and environmental protection have been central to this small country's modus operandi for over three decades with more than a third of the country's territory set aside for preservation.  And, there's much to preserve.
Formerly-known as British Honduras, Belize is bordered by Mexico on the north and by Guatemala on the west and south. About the size of Massachusetts with a multicultural population of 335,000, it is the only Central America country whose first language is English. The small interior town of Belmopan is the capital, but Belize City, on the coast, is the center of commerce, transportation, cultural activity, and the main port of entry.
Belize's long Caribbean coast faces the second longest barrier reef in the world, dotted with dozens of islets edged by white-sand beaches and spectacularly clear waters rich in coral gardens and teeming with fish and popular for snorkeling, scuba diving and sportsfishing.
Belize's interior has one of the longest chains of caves in the Western Hemisphere and the world's seventh highest waterfall.  It has mountains, rivers, jungle, and amazing Mayan ruins, some only recently uncovered.  The variety of wildlife includes 500 species of birds, 250 types of orchids, howler monkeys, pumas, ocelots, and the 100,000-acre Cockscomb Basin Wildlife Reserve, the world's only jaguar sanctuary.
Belize City   This port city is something of a hodgepodge, with elevated tin-roofed wooden buildings beside British colonial ones, and modern ones overlaid with a West Indian atmosphere. The Museum of Belize, opened in 2002, is dedicated to the country's history and culture with exhibits pertaining to Belize's past and present.  The Cathedral of St. John, built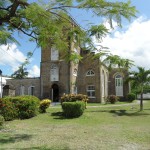 in 1812, is the oldest Anglican Church in Central America and today, houses a museum. Among other historic sites spanning two centuries is the nineteenth-century hand-cranked swing bridge over Haulover Creek, apparently named because cattle were once roped together by their horns and hauled over the river. Normally, it is opened at 6:00 a.m. and 5:30 p.m. to let ships pass.  Belize City is a good base for visiting some of the country's most interesting attractions.
Belize Zoo  Topping the list is the unusual, if not funky, Belize Zoo, 30 miles west of town.  Here, amid hand-printed, funny, and hokey but charming signs, you can see more than one hundred species of native animals, including jaguars, tapir, howler monkeys, toucans, and more. The zoo was created originally by happenstance.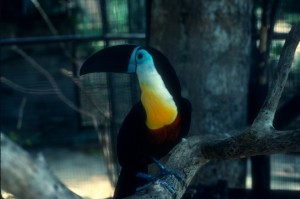 Sharon Madola came to Belize in 1982 to care for a group of native animals being used in a nature film, but the project ran out of money before it could finish. The fate of the animals was a big concern.  Belize did not have a zoo, leading Sharon to ask, why not start one? And she did. Through the schools particularly, she raised interest and awareness, enabling her to get government and private help. After years of hard work, she turned the zoo from a noble idea into a Belize institution everyone loves. www.belizezoo.org
Altun Ha   About 30 miles north of Belize City lies the country's most accessible Mayan ruins, where thirteen temples and residential structures have been uncovered.  Here, a jade head—the largest carved jade object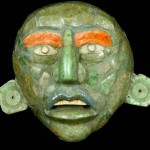 ever found in the Mayan region—was uncovered during excavations from 1964 to 1971 by David Pendergast of the Royal Ontario Museum. It represents the sun god Kinich Ahau, a national symbol of Belize that can be seen on the nation's currency.  Altun Ha was a major ceremonial center in the Classic period from AD 250 to 900 and a trading center linking the Caribbean coast with Mayan centers in the interior.
Bermudian Landing Baboon Sanctuary  The 18-square-mile reserve, an hour's drive north of Belize City, was established in 1985 to protect the black howler monkey through an unusual voluntary, grassroots conservation program dependent upon the cooperation of landowners and villagers in farming communities bordering the monkey's habitat on the Belize River.
The black howler monkey, known in Belize as the baboon, is an endangered species whose  range is now limited to Belize, southern Mexico, and isolated areas of Guatemala. When the Bermudian Landing community learned of the need to preserve the howlers' dwindling habitat and the benefits they could derive from conservation, its members responded by signing pledges to abide by certain guidelines. These include protecting forests along riverbanks, leaving food trees when clearing land, and maintaining corridors of forest around farmed areas.  In turn, the landowners have benefited by reducing erosion, preventing silting of the river, and allowing for more rapid replacement of forests. The community derives some revenue from visitors as well.
As they are neither shy nor quiet, hikers are likely to see and definitely hear these primates that live in the riverine forests by the Belize River. In addition to seeing the monkeys, hikers on the reserve's forest trails can see iguanas, coati, anteaters, and other exotic animals along with some of the nearly 200 bird species observed here.
Crooked Tree Wildlife Sanctuary  A 3,000-acre preserve of lagoons and marshes 33 miles northwest of Belize City is a bird-watcher's mecca where dozens of species can be seen. The sanctuary is best known for the thousands of jabiru storks, the largest flying bird in the hemisphere, that reside here during the dry season from October to early May.  Local tour companies can arrange a visit, which is well worth the effort for nature lovers or birdwatchers.
Lamanai  Further north on the New River in the Orange Walk District is said to be the longest continually-occupied Maya site in Mesoamerica. Dating from the Early Preclassic period with the first settlement, it was occupied up to and through the Spanish conquest. The Spainards established a Catholic church at Lamanai, but a revolt by the native Maya drove them away. The church ruins are still standing.  A boat trip along the New River followed by a hike to the Maya ruins is offered by tour companies in Belize City and San Pedro.
Mountain Pine Ridge  For hiking, the most accessible area is the 300-square-mile Mountain Pine Ridge, west of Belize City and south of Belize's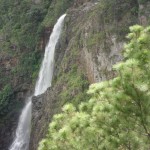 capital, Belmopan, an area known for its scenic pine forests, streams, caves, and the 1,000-foot Hidden Valley Falls (which actually falls 1,600 feet).
Caves Branch River
Caves Branch River winds through the mountains into a tunnel that leads to an underground cave system through which the Caves Branch River flows. From artifacts found here, it is thought that the caves were used by ancient inhabitants for ceremonial purposes. Today visitors can enjoy a cave-tubing excursion.
Among the important Mayan ruins in western Belize are the ceremonial center of Caracol, the most impressive Mayan site in Belize, and Xunantunich, a major center during the Classic period, 2 miles from the Guatemala border.  Tikal is situated just over the Guatemala border.
Caracol was first discovered in 1937 by Rosa Mai, a native logger who was searching for mahogany trees. He reported the site to the British archaeological commissioner, which sent archaeologist A.H. Anderson to undertake limited excavations. More extensive study was conducted by the University of Pennsylvania Museum from 1950 to 1953, but it was not until the early1980s, that Paul Healy of Trent University investigated Caracol's core area and recognized the site's significance.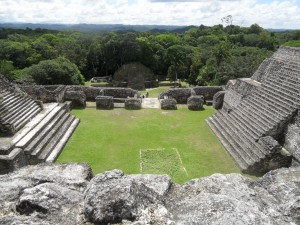 After that and for every year since 1985, the Caracol Archaeological Project, directed by Dr. Arlen and Diane Chase, University of Central Florida in Orlando, has conducted field research, uncovering what visitors see at the site today.  In 2009 the pair conducted the first aerial LiDAR survey, enabling them to assess and map the entire site of over 77 square miles, publishing their results in May 2010.
Scholars estimate the Caracol area was inhabited as early as 1200 BC, but not until about 650 BC to AD 950, was it a significant power, being an important trade center of the region. Early on, Caracol was tied to the more powerful city of Tikal, 45 miles to the northwest (in Guatemala). But by the 6th century AD, and particularly under K'an II who reigned from AD 618 to 658, Caracol reached its golden age with a building boom and a substantial increase in its population.  Wars and shifting population apparently weakened Caracol and by AD 900, the site had mostly been abandoned. Today, the vast area of Caracol has many buildings, monuments, stelae, altars, and many others yet to be excavated.  The site is reached by a road off the Western Highway running south from Santa Elena.
The Cayes
A short distance offshore Belize's east coast is a string of tiny islands along the 185-mile-long barrier reef.   Resort development is concentrated on Ambergris Caye, 35 miles to the north of Belize City, and Caye Caulker, 14 miles south of Ambergris Caye; another dozen or so islands have one or two hotels.  San Pedro, the main town on Ambergris Caye, has fabulous white-sand beaches, excellent deep-sea fishing and diving. Especially popular is snorkeling on the shallow-water reefs of the Hol Chan Marine Preserve, a 5-mile-square area of shallow-water coral gardens at the southern tip of Ambergris Caye.
Some other locations along the reef are the Turneffe Islands, 18 miles east of Belize City, a large atoll with abundant fish and large rays; Lighthouse Reef, about 30 miles farther east, where Half Moon Cay is a sanctuary for nesting red-footed boobies and magnificent frigate birds; and Glovers Reef, 30 miles east of the southern coastal town of Dangriga.  The coastal villages of Placencia and Punta Gorda are popular resorts on the Belize mainland.
© by Kay Showker