Hidden Valley Inn and Reserve, Belize's Best Kept Secret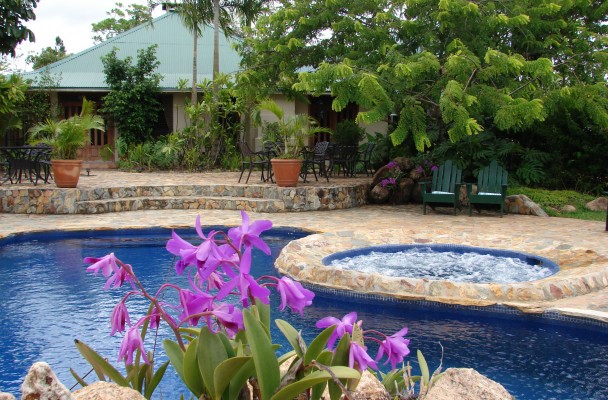 Deep in the mountain fastness of western Belize in the heart of the Maya Mountains sits a remarkable, luxury resort that should be on any world list of leading resorts, yet is barely known.  Set on 7,290 acres on a plateau at 2,000 feet altitude, Hidden Valley Inn is the centerpiece of a private nature reserve thick with pine forest, rainforest and jungle that are home to diverse and abundant wildlife including jaguar and four other Belize's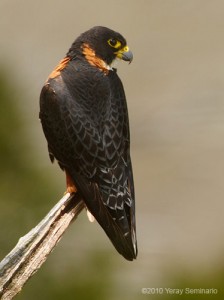 native cats, howler monkeys, most of Belize's 500 bird species including 21 species of hummingbirds, and the endangered orange-breasted falcon and solitary eagle, among others. 
Threaded throughout the beautiful landscape of the reserve are 90 miles of maintained trails, often edged by graceful tiger ferns, and leading to rapid rivers, magnificent waterfalls, including the famous 1,000 foot Hidden Valley Falls (which actually drop 1,600 feet), lookouts over deep ravines, and caves with ancient pictographs and petroglyphs.  There's even a man-made lake stocked for fishing on the property.
The boutique hotel covers 16 acres of the vast reserve and consists of the Lodge, its main building, originally the estate home of a cattle rancher built in the 1970's, and 12 rooms in six cottages all but hidden in the lovely gardens.  To one side is the swimming pool and hot tub and slate paved terrace – a popular venue for cocktails under the stars.
Owner Trevor Roe, whose company owes several hotels in Belize, acquired the property in 2001, and redesigned it into a small, luxury hotel. He expanded the manor house or Lodge, adding a lounge with a fireplace,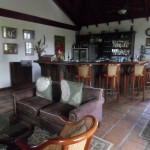 a handsome mahogany bar, restaurant, a small conference room, and a spa.  The airy cottages with high ceilings were upgraded to make them more luxurious and comfortable.  All have large private bathrooms, fireplaces, seating area and desk and are furnished in tropical hardwood and accents.  In the closet, you will find a safe, chest of drawers, and two robes and slippers. Two of the cottages are large suites with a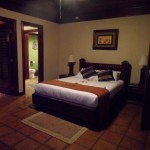 bedroom and sitting area, a large bathroom with a tub and an outdoor rock garden shower. The two suites are connected by a separate, screened-in,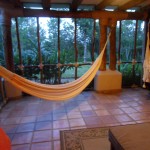 lanai-lounge with inviting hammocks and lounge chairs.  The Inn's maximum capacity is 28 guests. Near the Inn is a rustic pavilion used for yoga or meetings and luncheons.
Hidden Valley Inn is seldom seen on travel itineraries of the Belize Tourist Board, presumably because of the hotel's small size and its distance from Belize City.  But it's these two elements that rank high among its assets for some people.  Its location makes it a nature lover's paradise for hiking, biking, birding, caving, kayaking, and a host of other outdoor activities, while the hotel's small size ensures personal service which the inn provides in abundance in every way.  As one example – on arrival while you are enjoying the resort's welcome drink and relaxing in the lounge and the staff handles check-in, the masseuse comes from the spa to give you a complimentary hand massage.
The size and the warm and friendly atmosphere of Hidden Valley Inn makes it a good choice for families, especially those with school-aged children and older who have the freedom to roam and exploring and enjoy adventures like swimming under a waterfall, zip lining, and night jungle walks, among others.  Children under 12 stay and dine for free at Hidden Valley Inn, when accompanying a parent. If staying in two rooms, the second room is available at a single rate.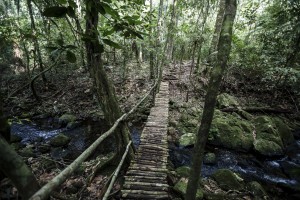 The 90 miles of trails radiating from the Inn are maintained by the Hidden Valley Institute which is supported by the Roe Group, and vary greatly in level of difficulty, length and interest. The Inn has maps and a knowledge staff to help guests plan their daily adventure as well as guides to accompany them on request. Use of 21-speed mountain bikes is complimentary to guests. For their safety and convenience, hikers and bikers are given two-way radios in case directions or a return ride are needed.  The Inn will also pack lunches or guests can request that a lunch – a picnic or a deluxe spread — be set up at a pre-designated place along their route.  Now, that's luxury!
Birders can start their quest immediately in the gardens of the Inn.  One earlier morning while I was there, eager to see birds, Freddy, one of the Inn's two nature guides, spotted more than two dozen bird species in less than an hour in the gardens.  On any of the trails you will easily see another dozen bird species or more, including, most likely, the endangered orange-breasted falcon.  Freddy tells me that seeing this bird is the main goal of many visiting birding groups he has accompanied.
Barton Creek runs through the reserve and many of the trails lead to a cave or a lovely waterfalls.  The five major waterfalls in the Hidden Valley Reserve are Tiger Fall, King Vulture, Devil's Fall, Butterfly Falls, and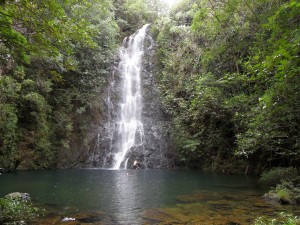 Secret Falls.  The latter two, Butterfly Falls, and Secret Falls, are especially popular sites with honeymooners and for weddings.  Other wedding locations the Inn can arrange include a cave or a Mayan ruin.
You can rent a waterfall and have it to yourself for the day.  Secret Falls, a thirty-foot fall and swimming hole in the middle of the jungle, is the ultimate romantic picnic.  After a short hike, the couple arrives at a thatched platform with a table set with linen and silverware, champagne and lunch.  Hammocks are slung and a "Do Not Disturb" sign blocks the entrance to the trail.
Hidden Valley Reserve is maintained by the Hidden Valley Institute which clears and checks trails regularly.  The Institute participates in a number of conservation efforts, working with scientific organizations to study rare birds, jaguars, and other wildlife on property. All proceeds from the Inn go towards maintaining the Reserve.  Inside the protected area, the mountains are comprised mostly of granite with some limestone.  Not all of the Reserve property has been explored and documented.  There is virgin forest and probably more caves, streams and other natural features yet to be discovered.
The area surrounding Hidden Valley is sparsely populated. There are several Mayan villages and the Barton Creek Mennonite village. One of
the Inn's excursions can be made to the nearby Mayan village of San Antonio where the ladies of the local Women's Group will teach you how to make tortillas and you can try your hand at pottery-making. A small shop sells products handmade by the Group's members.
Hidden Valley Inn and Reserve is within easy reach of Belize's most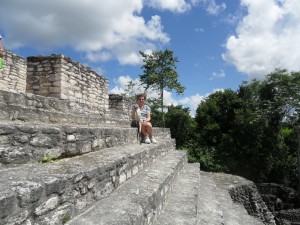 important Maya sites such as Cahal Pech, Xunantunich and Caracol, the largest site of Mayan antiquities in Belize (please see accompanying article Belize: Caves, Reefs, Jungles, Jaguars and Maya Ruins).
The Inn is located 77 miles from the Phillip Goldstone International Airport, west of Belize City. The first half of the 2.5 hour drive is on the main east-west highway that cuts across Belize, followed by a turn south near San Ignacio leading to a hard-surface, rocky dirt road that climbs into the mountain to the Inn.  Hidden Valley Inn has its own airstrip, about 10 minutes from the Lodge; the 30-minute flight from the International airport is the ideal, reasonably priced alternative. A small plane for two passengers cost $300; four passengers, $600.
Temperatures vary throughout the year and can drop to 50 F at night in the cooler winter months (December through February) and up to 95 F in the hotter months of the dry season ( January to May ).  The wet season is June through December with sporadic showers and an occasional rain storms in September and October.
Rates:  Estate Rooms: US $ 245.00; Estate Suites: US $ 335.00, double occupancy. Single deduct $6o; extra person add $60 year round, subject to hotel tax and service charge, and include  WiFi, coffee, high tea between 3pm-6pm, property maps, transfers within property, use of mountain bikes and access to hiking trails, pools and waterfalls. Packages and All Inclusive Rates are also available. Prices of tours are on the Hidden Valley Inn web site and range from a two-hour Sunrise/Sunset Birding Tour $50 to Actun Tunichil Muknal Cave Adventure for $150. www.hiddenvalleyinn.com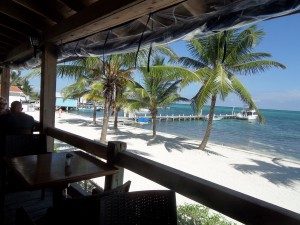 The Roe Group's other hotels in Belize are the Sunbreeze Beach (www.sunbreeze.net)  and Sunbreeze Suites (www.sunbreezesuites.com)  in San Pedro, Ambergris Cay and the Belize Biltmore, a Best Western Hotel, in Belize City (www.belizebiltmore.com).
By Kay Showker