Disney Magic Re-imagined and Redesigned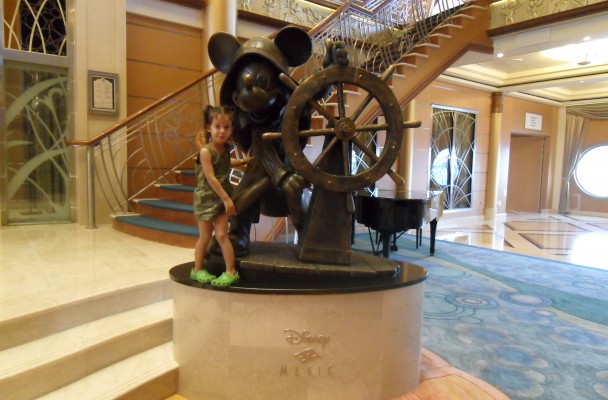 Disney has sprinkled so much pixie dust on Disney Magic that she's practically a new ship.  Originally launched in 1998, Disney Magic, at that time, was not merely a new cruise ship.  She launched Disney's entry into the cruise business with its own cruise line and she came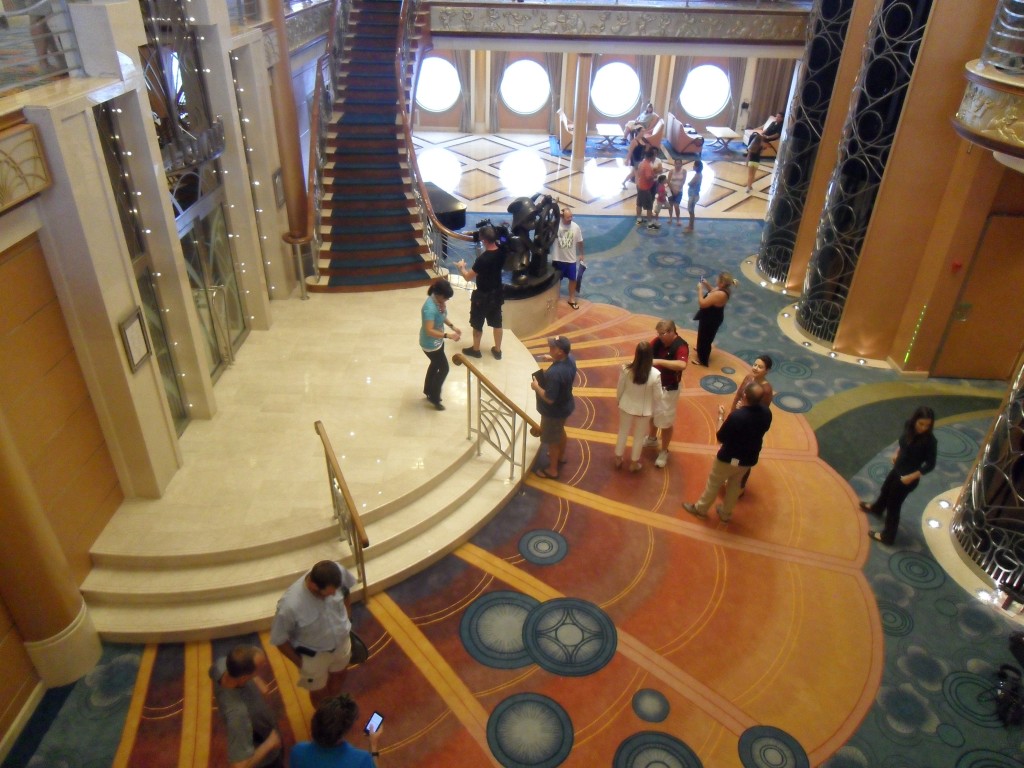 with innovative features never before seen on cruise ships.  Although the ship has been redesigned from bow to stern with totally new attractions and adventures, new venues, new décor, and new features, she still is a Disney ship, designed primarily for families but with something for everyone.
The original Disney Magic combined the lines of the great steamships of ole with modern interiors.  In the re-imagined Disney Magic, the stern had to be altered to accommodate the heavy new features – weighing over 5,000 tons – but only the most ardent ship buffs are likely to notice the difference. 
Thrills at the Top  Starting at the top where the new attractions are the most visible, AquaDunk, a 37-foot-tall slide, starts with a surprise — high atop the forward funnel on Deck 13 —  the floor beneath a participate opens like a trap door and the rider drops three stories into the near-
vertical translucent tube and races through the splashy ride to the end on Deck 10.  Riders rush so fast, they hardly notice that the tube extends 20 feet over the side of the ship high above the water. A second new water slide –and perhaps more gentle — is the Twist 'n' Spout which takes riders through a series of spirals, getting them drenched through three large loops.
The new AquaLab is an interactive water playground for kids age 3 and older who can try to out fox the pop jets, geysers and bubblers, shirking with delight all the while.  Pop jets scattered around the deck spray randomly while "water boilers" provide a cooling splash with spray churning from their extra-leaky rivets. One special water feature pays homage to the "original angry bird" himself. The Donald Boiler is a duck-shaped figure with interactive buttons whose hotheaded temper triggers bursts of high-pressure mist and water gusher.  Tots up to age 3 get to play in the new Nephews' Splash Zone, a splash-a-second fun space starring Donald Duck's mischievous nephews, Huey, Dewey and Louie. The area has all sorts of water play with pop jets and squirting figures. 
There's more poolside fun with Goofy's Pool for families with children and the Quiet Cove Pool exclusively for adults on Deck 9 for a more tranquil day.  Having play areas for all ages was the goal for Walt Disney Imagineers when they designed the new pool deck areas. Another goal was to add more covered outdoor areas for passengers.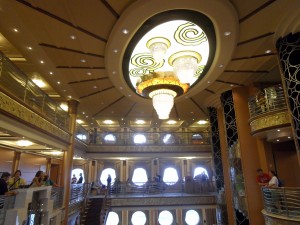 One of the major changes on Disney Magic is the three-deck atrium lobby on Deck 3 at midship.  Where there were two stairways in the past, now there is one. This change plus the addition of giant porthole windows has opened up and lightened the area.  The new art deco design from the spectacular chandeliers and to the carpets of blue, aqua and coral, a grand piano, and opulent furnishings, have created an elegant entry where Helmsman Mickey is still there to greet passengers. 
Pixar & Marvel Join the Fun   But the biggest excitement is on Decks 5 where Mickey and the gang have been joined by the characters from Toy Story and from Marvel —the first time the super heroes have stepped aboard a Disney Cruise Line ship. Marvel's Avengers Academy now calls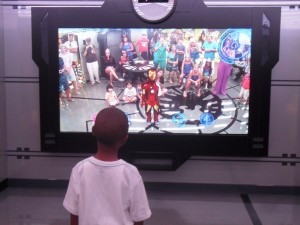 Disney's Oceaneer Club its home-at-sea where youngsters are transported to a high-tech command post for special missions and operations training. Displays feature some of the equipment that make The Avengers—Iron Man's suit of armor, Captain America's shield and Thor's hammer – the earth's mightiest heroes and enable children to interact with Marvel characters. The highlight of their day is becoming an Iron Man virtually.
Adjacent to Avengers Academy is the multi-level Andy's Room, where stars of the "Toy Story" trilogy come to life in an area stocked with Andy's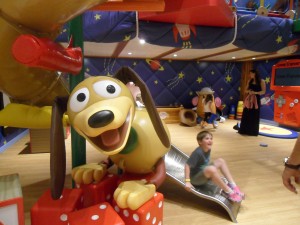 favorite toys, including a larger-than-life Mr. Potato Head, a giant version of the piggy bank, Hamm and a Slinky Dog slide.
In the Mickey Mouse Club, splashed with Mickey's signature colors of red, yellow and black, children create crafts and play games on ear-shaped tables. The club also features Goofy Gears, an over-sized activity where kids play with wacky, magnetic spinning gears. In the enchanted land of Pixie Hollow, Tinker Bell's teapot house which serves as a costume closet.  Here, too, children can make crafts while sitting on stools shaped like mushrooms and acorns.  The re-imagined Oceaneer Club is open to children ages 3- to- 12-years and attended to by a bevy of trained, eager counselors.
At the Oceaneer Lab children take a journey of discovery and exploration. Here, in the new pirate-themed area, they can create experiments and art projects at an animator's studio, pirate workshop and lab. At the Navigator Simulators they can try their hand at steering a ship. You can't have Disney without It's a Small World.  On Magic, it's the nursery for ages three months to three years.  Teens have their own club, Vibe, hidden away high on Deck 11.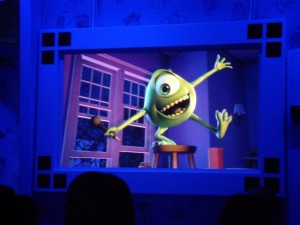 Time to Dine   Always a passengers' favorite, Animator's Palate shows more than any place on the ship the genius of Disney's animators with all-new, drawings of Disney characters on the walls and a fascinating "Drawn to Magic" presentation on large HD screens around the room. There, the Disney and Pixar characters — Aladdin, Sleeping Beauty, Pinocchio, Cinderella and more — come to life with scenes from classic and modern Disney films.  It's like watching a 3-D film of a story about a hero's journey through good and evil complete with villains. With some pixie dust, their dreams coming true while the black and white dining room is bathed dramatically in color and diners watch in awe.
Carioca's, a new dining venue that replaced Parrot Cay, is meant to reflect the vibrancy of Rio de Janeiro.  Buffets are served with a festival theme during the day and the restaurant is transformed with table service each evening.  Cabanas, which replaced Topsiders and almost doubled in size, is a casual dining venue with food and beverage stations by day and table service for dinner.  Its décor was inspired by the popular classic, "Finding Nemo."
Palo, for adults only, got a makeover with handsome new décor and an outdoor extension. The restaurant continues to rank as one of the top venues of any cruise ship for its fine cuisine. Disney has retained the innovative dine-around concept that was introduced on Disney Magic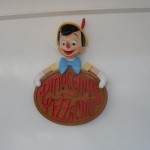 fifteen years ago. Other familiar dining venues – Lumiere's, Pinocchio's Pizzeria, Goofy's Galley – have also been retained.  A highlight for kids (parents, too) on every Disney cruise  is Character Breakfasts when they can meet Mickey, Mini and other popular Disney characters for pictures, hugs and autographs.  
A New Look in the Cabins   With all the activity available on Disney Magic, this might be the time to save on an inside cabin. All the cabins –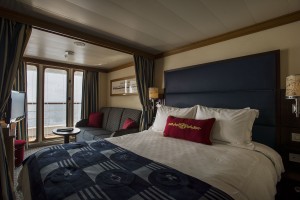 oceanview and verandah cabins have been redesigned with new-nautical décor and more usable space, including elevated bed frames that provide more storage room underneath. The innovative bath-and-a-half design, introduced on the original Disney Magic, is still there. The cabins are very comfortable with Frette linens and stylish furnishings.  But I do miss the old steamer trunks that concealed the drawers.
Time for Pampering   Senses, the spa and hair salon, has been redesigned in a contemporary style and expanded to include new service, such as teeth whitening, a barbershop for men, and treatments for teens.
Magic after Hours   Disney Magic made several important changes in the nighttime entertainment district for adults only, forward on Deck 3.  Fathoms, a night club whose décor was inspired by the sea, uses special effects, lighting and sound to create different atmospheres from early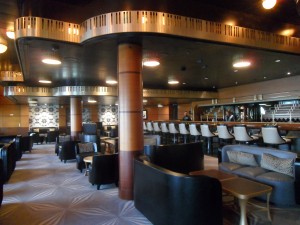 evening to night.  Keys, a handsome piano bar and lounge, offers low-key congregating with friends before and after dinner.  For a bit more action, there's O'Gill's Pub, an Irish pub and sports bar designed to recall days of ole with rich green accents and traditional décor and television screens around the room for live sports events.
Topping off the entertainment is "Disney Dreams ," the cruise line's signature show that tells a bedtime story with Peter Pan, Beauty and the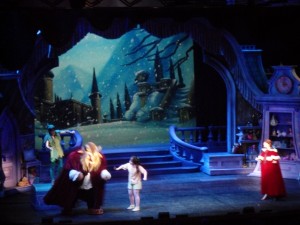 Beast, Aladdin, Cinderella, and many other Disney characters teaching a young girl the power of her dreams. "Twice Charmed," billed as a twist on the Cinderella story, begins where the original ended. It's a bit corny but audiences love it.  'Villains Tonight!' a musical comedy stars Hades who embarks on a quest filled with wacky antics and amusing musical numbers to bring evil back into the Underworld.  Normally, it's shown on longer itineraries.
Disney Magic's Itineraries Through spring and in late Fall 2014, Disney Magic sails from Miami or Port Canaveral on three and four night cruises to the Bahamas, including Castaway Cay, and five night Caribbean ones to Cozumel and Castaway Cay or Grand Cayman.  From May through August, she will be in the Mediterranean between Venice and Barcelona on four-, five-, seven-, nine- and 12-night cruises. In September and October, Disney Magic returns to the Caribbean to sail from San Juan on seven-night Southern Caribbean cruises.  For information: www.disneycruise.com or 888-325-2500.
Text and photos by Kay Showker