Cuba: Celestyal Cristal and Tips for Planning Your Cruise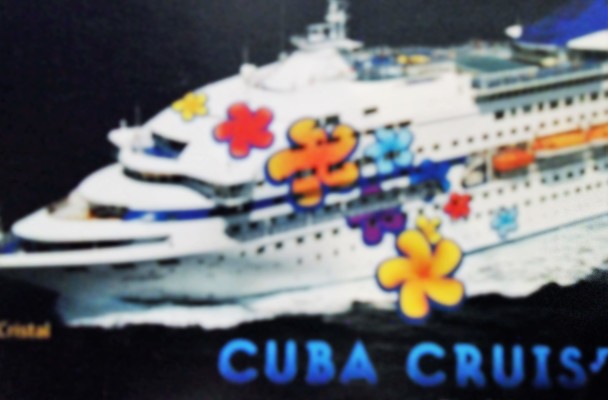 Cuba Cruise's Ship, Celestyal Cristal
If you have ever sailed on a Greek ship, you will right at home on the Celestyal Cristal.  She is as different from today's big, Las Vegas-at-sea type cruise ship as can be imagined.  Although the ship could accommodate more than 1,000 passengers, she had a friendly, small ship atmosphere and never seemed crowded.
Basically low-key and comfortable, Celestyal Cristal is a somewhat old-fashioned cruise ship but with amenities, activities, and entertainment to ensure a pleasant cruise for any passengers.  She has three restaurants, four bars, a small casino and sports bar, a swimming pool with a
retractable roof, hot tub, fitness center and small spa, sauna and steam room, beauty salon, small internet café, conference/meeting room, library, kid's room, on-board boutique and a full daily ship board schedule, ranging from exercise sessions to crafts, Cuban dance and Spanish lessons.  The public rooms are attractively decorated with art deco touches – nothing flashy or luxurious – but easy to like.
The Cabins 
The cabins are located on six of the ships ten decks and are about the size of those on Holland America or Princess cruise ships.  They come in a variety of locations and configurations; most accommodate three or four persons.
Of the 480 cabins, 163 are inside ones; 16 are suites, and only ten have balconies. The majority are outside cabins with a large window (some views blocked by lifeboats; those on the lowest deck – and the least expensive – have portholes).   A few cabins are wheelchair and bathroom accessible.
Like the ship's public rooms, the cabins are comfortable with rather plain, traditional cruise ship décor.  Almost all are furnished with two twin beds with a small table in between but cannot be combined into a queen bed.  All cabins have a dressing table/desk with
a large mirror and chair, good lighting, and television.  The deluxe outside category has a small sofa that can be opened to a bed for a third passenger.  Depending on the category, closet space is generous or minimal but adequate for a warm-weather week's cruise. Generally, the bathrooms are small with shower; those with a bath tub are rare. The cabins are kept clean and well maintained by attentive, European and Asian cabin stewards and stewardesses.  For more information, the Celetyal Cruises website (www.yourcubacruise.com) has deck plans, cabin descriptions and prices.
The Restaurants  
The Amalthea Restaurant, the main dining room on Deck 8 serves three meals daily at two seating.  Most of the tables are large, accommodating six or eight persons, and can be a bit crowded.  The cuisine is rather dull, particularly for those with a cultivated palate. Dinner menus offer three to four choices for each of five courses, including vegetarian ones.
The Leda buffet on Deck 9 also offers three meals and afternoon tea daily in a more casual atmosphere.  Also on Deck  9 is the best restaurant by far, Alberta Prime, the premium restaurant for which there is charged of about US$35; reservations are required.  (The currency on board ship is Canadian dollars but bills can be paid in U.S. dollars and Euros, as well as U.S. and European credit cards.)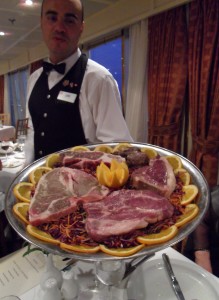 As the name implies, Alberta Prime's specialty is Alberta beef.  The meal starts with a generous antipasto and Caesar salad, followed by choices for the main course that waiters present on a large platter of premium meats and another of seafood variety from which to select.  To top off the meal, diners are offered a selection of gigantic desserts.
Lounges, Bars and Entertainment
Also on Deck 8 are the pool and the Helios bar which serves drinks poolside.  Deck 10, the top deck, has the Horizons Disco Bar.   Aft on Deck 5, the outside Thalassa Bar with touches of Cuban design is a popular spot for an after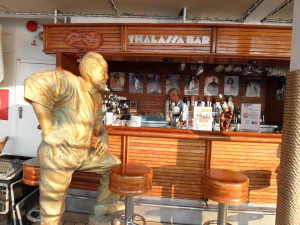 dinner nightcap – perhaps Cuban rum and cigar.  Appropriately, it's overseen by a golden statue of Hemingway by the bar.
The entertainment lounges and bars are in full swing in the evenings with live music ranging from classical concerts to karaoke and disco to variety shows and performance by the four-man Cuban combo.
The Celetyal Cristal is a friendly ship starting with her Greek captain and officers and an international staff.  Until now, the ship attracts mostly Canadians and Europeans.  Dress is casual and informal, although the Europeans tend to dress slightly more formal for dinner.
Shore Excursions
Keep in mind that even though the ship has amply to offer passengers on board, a Cuba cruise is really about the experience on shore.  Celetyal Cristal offers a wide variety of excursions, reasonable priced and efficiently executed by one of the Cuban tour companies authorized by the Cuban government to operate tours for cruise ships.  All are accompanied by pleasant, English-speaking Cuban guides, some more knowledgeable and proficient in English than others.  The excursions are described on cruise line's website; half-day city tours are included in the cruise fare in most of the ship's ports of call.
And remember, the beauty of a cruise is your ship arrives in port in the early morning, giving passengers the full day in port, and sails at night enabling passengers to have a restful sleep and be refreshed for touring the next day.  Of course Cuba's cities and towns can be visited on land tours, but distances on this large island are usually a long bus ride between the main destinations, and require changing hotels each night – all of which a cruise eliminates.
             >>>>>>>>>>>>>>>>>>>>>>><<<<<<<<<<<<<<<<<<<<<<<<
                       Tips for Planning Your Cuba Cruise
Documents:  All passengers need a passport, which must be valid for six months after your travel, and a Cuban Tourist Card (about $85) which is usually included in your airfare.  If not, you are responsible for obtaining it; or you can purchase one upon entry into Cuba.  There is a Cuban Pesos Convertible (CUC) $25 departure tax, payable at the airport.  Passengers are also required to have medical insurance; the cruise line can recommend how/where to purchase it.  No inoculations are required to visit Cuba.
Travel Arrangements: Your travel arrangements will depend upon your departure city – Toronto or Miami.  Specific information will be provided to you by Cuba Cruise when you make your booking.  Indeed, after you have booked your cruise, the cruise line will send you information and guidelines that will answer also any question you may have.  The international airport in Havana is a 45 minute taxi ride to the city center and will cost about CUC$35.
Air Service to Cuba: Flights to Cuba from the U.S. may be getting easier – and hopefully, cheaper – as the U.S. and Cuban governments began aviation talks in late September.  However, their value will be limited until Congress lifts the embargo, as U.S. citizens still cannot visit Cuba as tourists and must either have a license or fall under one of the approved 12 categories for travel to Cuba.  Meanwhile, American Airlines and JetBlue have frequent charter flights from Miami (about $400 round-trip) and New York (about $800), which are technically under the authority of a third party, such as a tour operator.  The alternative is to travel to Cuba via a third country, such as Caymans, Canada, or Mexico.
Cruises and Ferry Services:  In addition to the Canadian company, Cuba Cruise (www.yourcubacruise.com), three other companies will begin offering cruises in 2016 and seven ferry companies have been given licenses by the United States Treasury Department to operate ferry services between the United States and Cuba.
Fathom (www.fathom.org/cuba), a new subsidiary of Carnival Cruises specializing in social impact travel, will begin its 7-night Cuba cruises in May 2016; prices start at $1,800 per person, not including port and other fees.  Haimark Line (www.harmarkline.com), a new Chicago-based, small ship cruise line, will run its 10-day Miami to Miami Cuba cruises from February to May and November-December, 2016; prices start at $4,599 per person.  Pearl Cruises (www.pearlseascruises.com), a new company owned by American Cruise Lines, is launching its seven- to 10-night series in spring 2016; prices start at $7,580 per person.  Information on the cruise lines' ships, itineraries, prices, fees, and shore programs are detailed on their web sites.
Hurdles for ferry services remain, including managing passenger service within the guidelines of U.S. regulations for travel to Cuba.  United Caribbean Lines, one of the approved companies, has announced plans to offer ferry services from Miami, Tampa, Port Everglades, and Key West to Cuba, using modern overnight ferry vessels designed for international service.  Schedules and ship details will be issued when arrangements with Cuban authorities have been completed.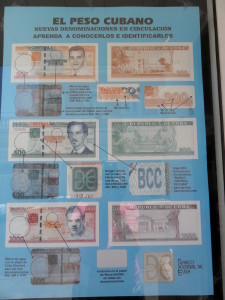 Currency   There are currency exchange facilities at the airport and at very port where the ship calls; a 12% fee is levied for every dollar exchanged.  Do not change more money to local currency than you need as you will pay another fee to change CUC back to U.S. dollars — a total cost of 19 cents per dollar.  Bring with you all the U.S. dollars, preferable small denominations, you plan to spend in Cuba as the ship does not stock U.S. currency and the use of U.S. credit card is still not available in Cuba. (This is expected to change now that the U.S. embassy in Havana has reopened).
Electricity   The ship has both110 or 220 volts, as does Cuba.  The 110 volts outlets in the cabins have U.S. standard plugs.  A 220 adapter might be useful for electrical devices.
Communications:   Until now, communicating with folks back home has been limited and difficult.  However, on September 17, 2015, Verizon Wireless announced it would be offering service to its customers for talk, messaging and data through the company's Pay-As-You-Go International Travel option.  Sample rates: Voice calls, $2.99 per minute; data, $2.05 per megabyte. Contact Verizon Wireless for information.  It's likely that other companies will be following the similar service soon.
Packing for your Cuba Cruise:  Most products – like those you forgot to pack – will not be available in Cuba and are likely to be in limited supply in the ship's boutique.  Thus, you should put a great deal of thought into packing.
Here's a checklist to get you started:
— Ample supply of ALL prescription and non-prescription medications you might need.
— Toothbrush, toothpaste, dental floss, toothpicks, mouthwash, shaver and supplies
— Shampoo, conditioner, hairspray, comb, hair brush, wash cloth
— Deodorant, moisturizer, fragrance, sunscreen, antacids, laxatives, motion sickness pills
— Small first-aid kit, aspirin, kleenex (small packets), bandages, tampons, earplugs
— Insect repellent; PeptoBismo, Imodium or similar product
— Fingernail clippers, small traveling manicure set, lip balm, rubber-bands, safety pins
— Camera, extra memory cards and batteries for digital cameras, plastic bags
— Cords for recharging laptop, table, camera, and other devices
— Cuba guide book and map, Spanish dictionary/phrase book, writing pad, pens, pencils
— Warm weather clothing, comfortable walking shoes, sunglasses, sunhat
Recommended Reading:  Insight Guides Cuba (www.insightguides.com), available as an e-book and print edition, is excellent and provides a wealth of cultural, historical and travel information, maps and photos.  Passage to Cuba, by New Yorker and former Newsweek photographer, Cynthia Carris Alonso, who has an intimate knowledge of Cuba, having worked there, off and on, for over twenty years, is also available as an e-book and print edition.  Published by Skyhorse Publishing, New York, the photographs and commentary provide a wide angle, in depth view of Cuban life and culture.