Cuba, A Destination … Days 2 & 3 … On to Havana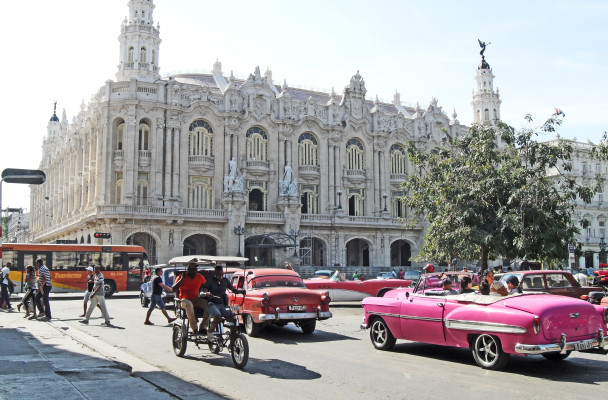 Cuba Cruise,  Days Two and Three
Day Two: Punta Frances/Isla de la Juventud
Cuba, most newcomers are surprised to learn, is an archipelago of several hundred islands.  Isla de la Juventud, or Island of Youth, about 60 miles south of the mainland, is the largest.  Our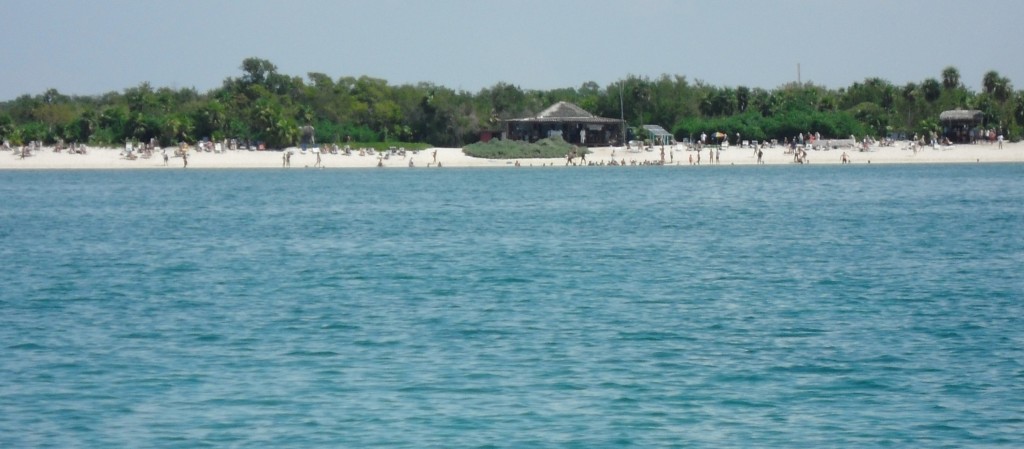 ship dropped anchor off Punta Frances, an isolated stretch on the island's northwest corner with miles of powder-fine sand beaches backed by thick low forest.
Passengers were tendered to the island for a morning at beach. Punta Frances with warm, clear water is known for good snorkeling and scuba diving on a nearby reef.  In addition to a snorkeling excursion, passengers could participate in aqua exercise and dancing-in-the-water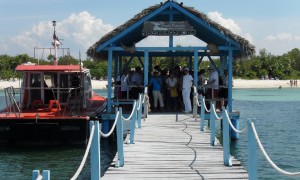 sessions. Most passengers were content to lie on the beach and enjoy the tranquility and beauty of the sea. Passengers could buy vouchers on board for snacks and drinks on the beach.
The beach is called Latrobe after a French pirate who favored these waters. In 1809, he captured two Spanish ships laden with gold and jewels. Legend says Latrobe buried his treasure on the island but later, he was captured by the U.S. military and taken to Kingston, Jamaica. His treasures have never been found.
Isla de la Juventud was once an American colony, ceded to Cuba in 1907, following the Spanish-American war. The island is rich in pine forests and lumbering, farming and fishing are its mainstays. The island is said to have a population of 100,000, but we never saw any local folks, towns or settlements.
At 2:30 in the afternoon, the Celestyal Cristal weighed anchor for Havana, 157 miles away.
Back on the Celestyal Cristal, passengers could attend a lecture on "Visual Arts in Cuba" given by Dr. Jorge Arocha, a professor from the University of Havana and one of the 70 Cubans working on the Celestyal Cristal. Arocha offered several lectures on different aspects of Cuba during the cruise.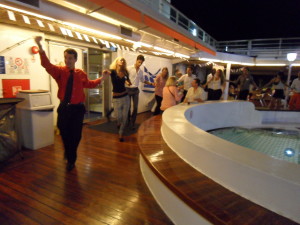 Tonight was Greek Night with a buffet of Greek specialties and Greek music which had
passengers learning Greek dances led by the cruise director, an affable gentleman from Romania who speaks six languages.
Day Three: Havana
The excitement began from early morning as the ship entered Havana Bay and we could see the famous city stretched out before us. To the west we could make out the high rises along the seaside Malecon – most being Miami-style hotels built in the last days of Batista.
I had not realized until we docked that the piers were immediately in front of San Francisco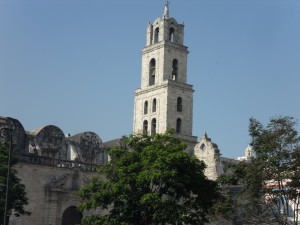 Plaza at the head of Old Havana, the most desirable location for visitors in the city. Imagine! We could step off the ship and walk directly into the most historic and interesting part of Havana.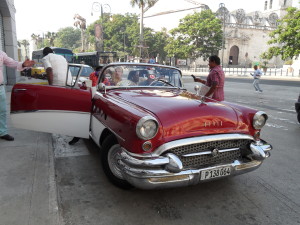 But first, we assembled in the spotless, modern terminal to wait for our coach to take us across Havana Bay to Regla where a very special program awaited us. While we waited a dozen
or more vintage cars in mint condition passed by, some to take passengers from our ship on a
city tour.
Regla, Center of Afro-Cuban Culture
The Museum of Regla is devoted to Afro-Cuban history and a cultural center for Santeria, the Afro-Cuba religion in which its deities (mostly based on Yoruba ones) brought to the New World by African slaves became identified with Catholic saints.
At the museum, our guide attempted to translate as the director of the museum explained in Spanish the ritual dances we were about to see.  Her explanations didn't help much.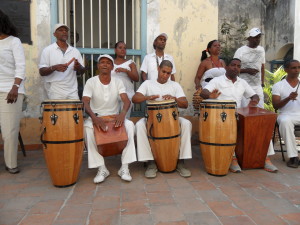 As each costumed dancer came before us, with drummers and singers chanting and providing the rhythms to invoke the spirits, we were left to our imagination to understand which deities were being beckoned.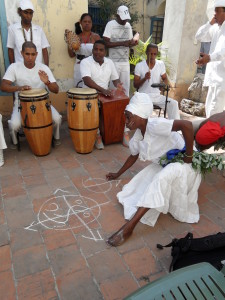 I had read that the colors of the dancers' costumes gave some indication, for example, Yemayá (Virgin of Regla, patron saint of Havana Bay), dresses in blue – the color of the sea; Oshun, goddess of beauty and love, wears yellow; a different sect, called diablitos (little devils), wear a multicolored checkered costume and conical headpiece, often seen throughout the Caribbean during Carnival.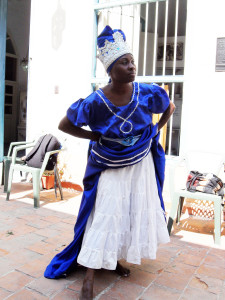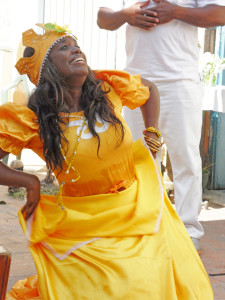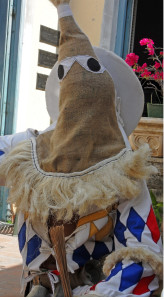 Before we left the area, we visited the Nuestra Señora de Regla Church, built in 1810, dedicated to the Virgin of Regla (the black virgin). The church has two altars: An elaborate golden Catholic one and a simpler Santeria altar where two ladies were on their knees in repose. Both altars picture a black Madonna holding a white child.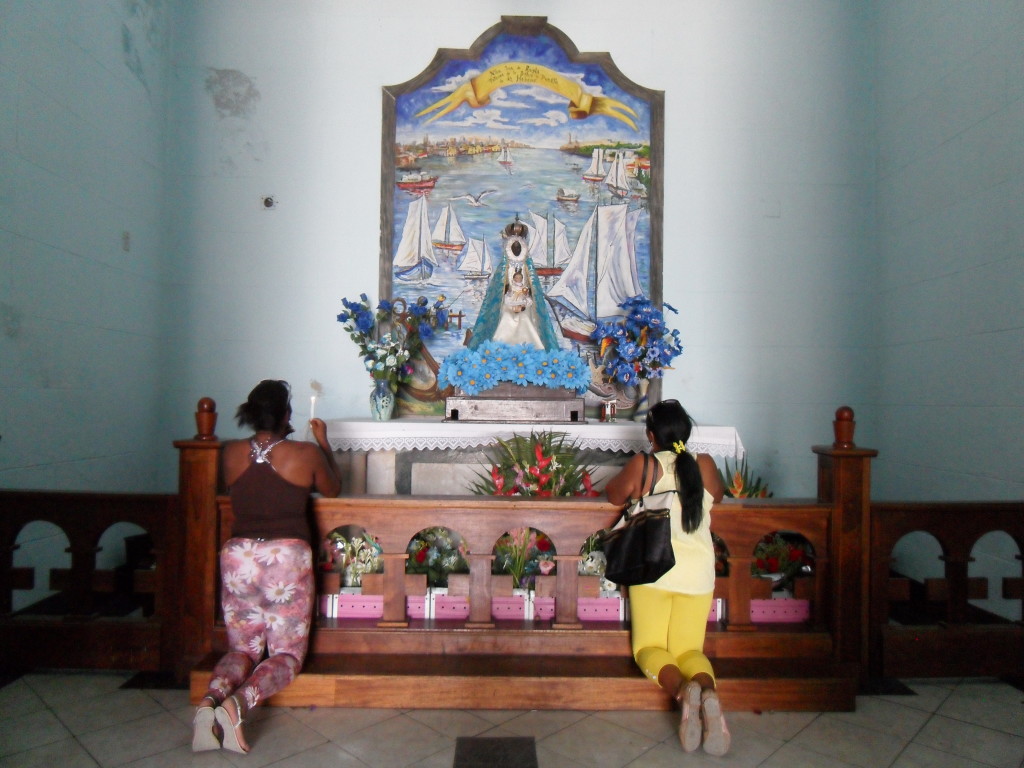 Rather than return to the ship for lunch, a friend and I were ready to check out Old Havana. There are many ways to explore this gem – as a walk through Cuban history, a Cuban art or music tour, a visit to its many gardens and plazas, or retracing Hemingway's steps by finding his old haunts. In the short time we had, we managed to do a little of all them.
A Walk in Old Havana
From San Francisco Plaza, you can head in almost any direction to begin. Two blocks north is Plaza de Armas, the oldest square in Havana, now restored, surrounded by restaurants, cafes and bars. On its west side, the baroque 18th century Palacio de los Capitanes Generales was the home of the Spanish governors for almost two centuries – and briefly of the U.S. military governor , as well as Cuban presidents and the mayor. Today, it is the Museo de la Ciudad.
Two blocs north is the Plaza de la Catedral with the Cathedral of Havana, dedicated to San Cristobal, Havana's patron saint. It would be easy to linger here as the nearby lanes have museums, mansions, and monuments – now restored – marking some aspect of Cuban history.
Near the Cathedral on Calle Empedrado, Hemingway fans might want to stop at La Bodeguita del Medio, one of the great writer's favorite haunts where the walls are covered with mementos and signatures of the many writers and artists who have frequented it. It's one of several bars that claim to have created Cuba's national drink, the mojito.
From San Francisco Plaza, we turned south on Calle San Ignacio to Plaza Vieja, one of the oldest and most beautiful squares surrounded on all side by handsome colonial houses that now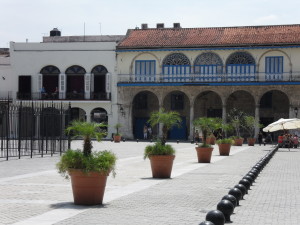 house art galleries and hotels.
I was on a mission to check out the Buenos Vista Social Club, the famous music group that skyrocketed to fame in the 1970's when their music and film about them were release. I knew the original club no longer existed and only one of the original band members, now in his 90's, continued to perform.
One of the Cuban musicians on our ship had given me the address for Café Taberna where the group was said to perform several nights a week. We found it on a corner across from the Plaza Vieja; it looked so inviting, we decided to stay for lunch. We dined on delicious red snapper served with fresh vegetables. The bill for the two of us was only US$16, including Cuban beer.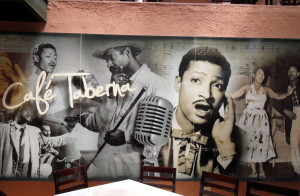 We learned from the manager that Café Taberna becomes a dinner club in the evenings when normally, the Buenos Vista Social Club members perform from about 9:00 to 11:00 p.m. Since our group already had dinner and evening plans, we knew we could not get back to the Café before 10:00 or 10:30 p.m.  After some discussion and a lot of persuading, the manager agreed to let us return – which we did and were delighted to listen to the music in the jam-packed café.
The following day, after I hear several different passengers talking about hearing the Buenos Vista Social Club – at the Hotel Nationale, at the Hotel Melia, and at another café elsewhere in the city, I discovered that the "Buenos Vista Social Club" had become a brand and several combos play around Havana under that name. Actually, wherever we went in Cuba, there was always wonderful music.
After lunch, we continued exploring Old Havana, wandering along the narrow streets, stopping briefly at the newly restored Hotel Raquel with a spectacular baroque façade. Built in 1905, its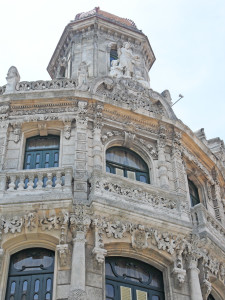 marble-filled lobby has a beautiful skylight reminiscent of Belle Époque hotels on the French Riviera. All its 25 guest rooms are decorated with paintings by famous Cuban artists.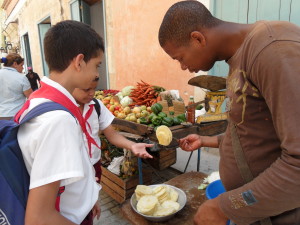 On a nearby corner, we watched some school boys buy fresh pineapples from the vendor. They looked so good, we bought some ourselves.
A few blocks away on Calle Obispo, we came upon Hotel Ambos Mundos, a Hemingway favorite where he wrote For Whom the Bell Toll and where his room is kept intact. The hotel's roof-top bar, a popular tourist stop, has a great view over Old Havana.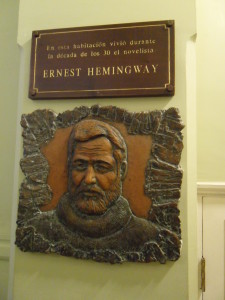 The hotel's inner courtyard had a display of works by a Cuban artist, available for sale.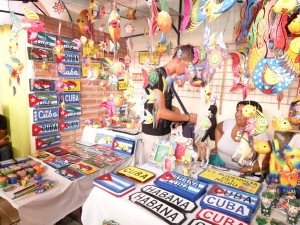 Further along, a tourist market had the expected Cuban souvenirs and tee-shirts as well as some sophisticated apparel and accessories.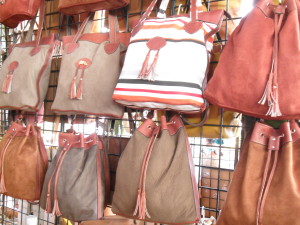 Calle Obispo, the earliest street to be renovated and the first to be made into a pedestrian lane, starts at Plaza de Armas and ends at Parque Central, where on a corner just before the park is El Floridita, Hemingway's favorite bar for daiquiris.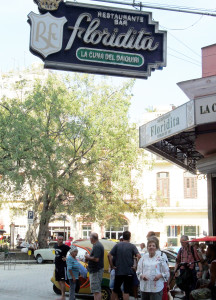 Indeed, no matter where you start, any lane heading west from Plaza de Armas or San Francisco Square at the pier leads to Parque Central, a leafy, large square centered with a statue of Jose Marti and surrounded by buildings of magnificent architecture housing the National Arts Museum, the National Theatre, the National Capitol, and others which have been renovated into hotels, restaurants and art galleries. [Note: All museums in Cuba are closed on Monday.]
In front of the magnificent Grand Teatro on the east side of Parque Central is a taxi stand with an array of vintage American cars and newer Russian,Japanese and European models.  We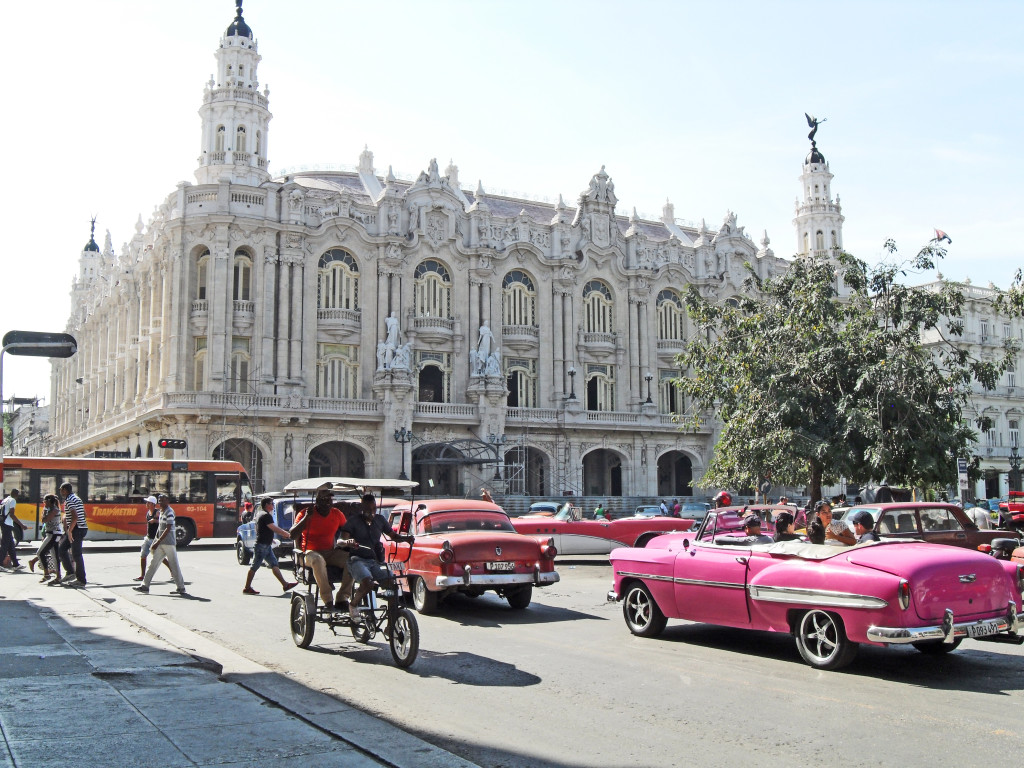 wanted to take one of the vintage American cars, but were quickly pointed to the first in line of waiting taxis — a Russian car.
Along the Malecon
Our plan was to head along the Malecon to the famous Hotel Nacional, the favorite of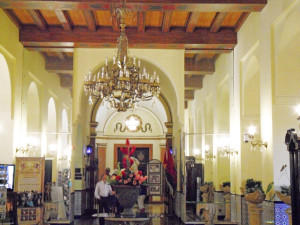 Hollywood stars and celebrities in Batista times, for a quick look-see and then to the Hotel Melia Cohiba, the one of the city's newest international chain hotels, where we were to rendezvous with our agent group for dinner and a special show. The taxi, including waiting time, was US$15.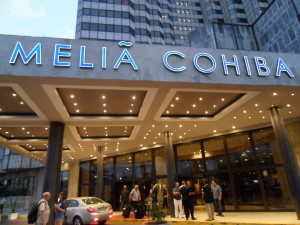 From the Melia we walked a block to the ArteChef, a teaching restaurant of Cuba's Association of Chefs, where we had dinner. The first lesson was making mojitos. In a separate room, we could attend a class by one of the chefs teaching a group of wanabees. Our main course for dinner was shredded beef – not my favorite – accompanied by rice and beans and flan for dessert. I'm sorry to say, if this was meant to be an exemplary sample of cuisine by Cuban chefs, they have a long way to go.
After dinner, the group made its way to a barrio south of the Malecon for a performance of the Opera de la Calle. Taking its name literally, I had no idea what to except but imagined something like the troubadours who went from town to town in olden days in Spain and are still a tradition in Mexico. I could not have been more off base.
The group of young Cuban singers and dancer performed a rock musical, in Spanish, closer to "Rent" or "Hair" in a cavernous former theater where the ear-shattering music was all the louder bouncing off metal walls and ceiling.  My friend and I were happy to make a fast retreat to the Café Taberna in time to hear the cool Latin beat of the Buena Vista Society Club.
Reluctantly, we made our way back to the Celestyal Cristal for its midnight departure. Clearly, one day in Havana is not enough.
NEXT:  Holguin Province . . . Days 3 and 4 . . . Holguin