Cuba, A Destination Like No Other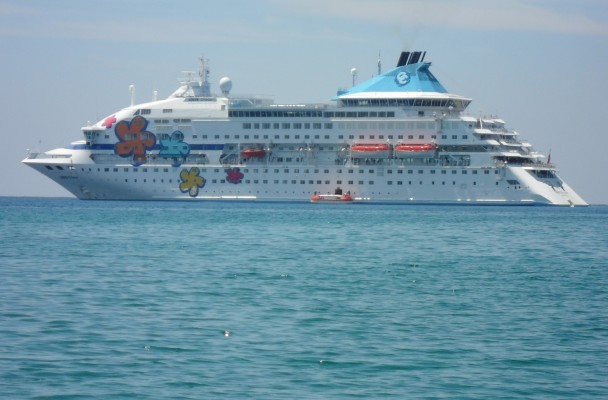 Yes, Cuba is an island in the Caribbean Sea.  Her topography is similar to other Caribbean islands, but it's different.  Her history is similar, but it's different.  Her culture is similar, but it's different.  Indeed, in almost every way, Cuba has some similarity to her Caribbean neighbors but she is different.
Despite the appearance of a time-warp, Cuba is not living in the past.  It is a vibrant, colorful country that throbs with activity.  On a recent visit, I learned quickly to put aside any preconceived notions I may have had about this Caribbean island and to be ready for surprises at every turn.
My trip was unusual in that it was a cruise around the island offered by Cuba Cruise, a
Canadian company, on Celestyal Cristal, a cruise ship it leases for the winter season from Cyprus-based Celestyal Cruises (formerly Louis Cruises).  I was able to tag along on a FAM trip for U.S. travel agents – to my knowledge, the first after the Obama administration's moved to relax travel to Cuba.
Normally, passengers board Cuba Cruise's ship in Havana but because of the huge  increase in demand since President Obama's announcement in January, it was nearly impossible to obtain enough airline seats from Miami for our group and thus, fifty of us boarded in Montego Bay, Jamaica, one of the ship's ports of call, 267 nautical miles south of Cuba.  (It also cut our airfare in half – but more about that later.)
Day One:  Cienfuegos
The following morning, we woke up in time to watch our ship navigate the very narrow straits that open into the enormous Bay of Cienfuegos, which spans almost 34 sq. miles on the south coast of Cuba.
Although the area was sighted by Christopher Columbus on his second voyage in 1494, Cienfuegos was not settled until 1819, when Frenchmen from Louisiana created the first colony there. You will see their traces in the charming colonial town with sidewalk cafes, lacey balconies, and features reminiscent of New Orleans.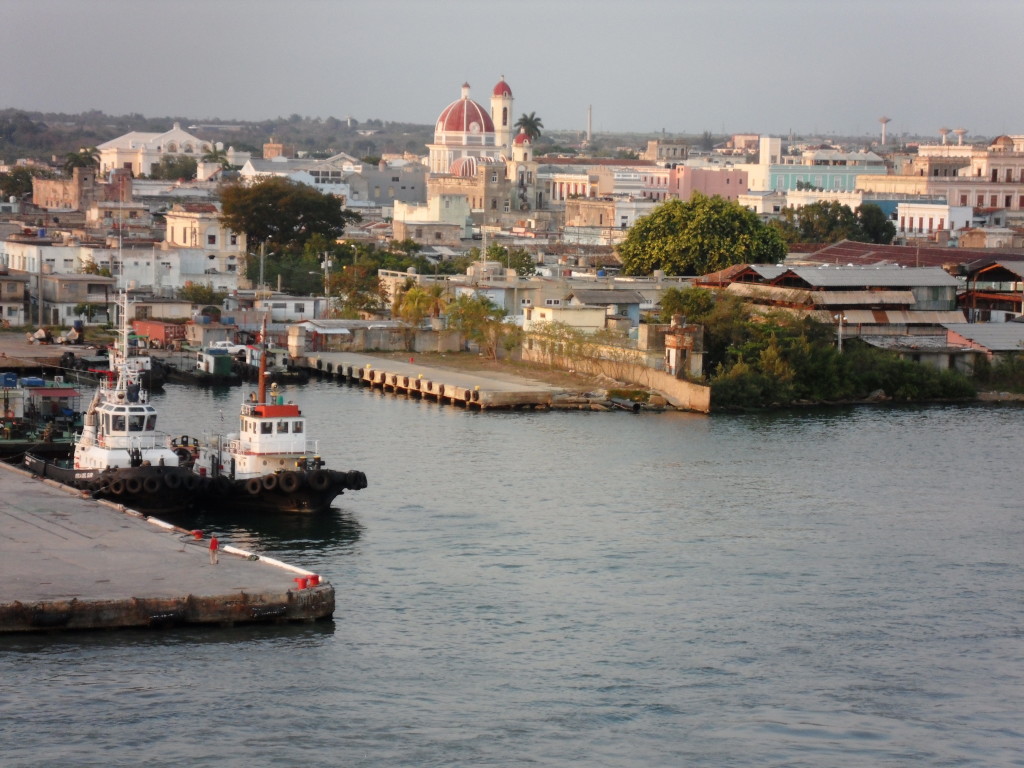 Often called the Pearl of the South, a long, wide tree-lined boulevard, Paseo del Prado, near the port, leads to the city's heart at Jose Marti Park, a leafy square with a grand statue of Cuba's national hero, and surrounded by historic, colonnaded buildings. The historic center, now restored, was named to the Unesco World Heritage List in 2005 – one of eight sites in Cuba so designated.
As with all our excursions, a walking tour was combined with a driving one. Our first stop on a walk in the historic center was the Thomas Terry Theatre, now restored to its Belle Époque glory when it hosted such famous stars as Enrico Caruso and Sarah Bernhardt.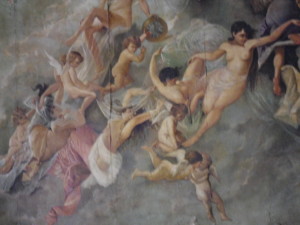 The richly decorated theater has a beautifully-painted ceiling and walls adorned with posters of famous performers.
As the story goes, Thomas Terry, a wealthy sugar baron made part of his fortune by buying sick slaves, nursing them back to health, and selling them for a sizeable profit. He left funds to build the theatre after his death, as his way of "giving back to the region from which he had taken so much," our guide told us. A poster for an upcoming performance by Cuba's famous National Ballet Company indicated the theatre is still hosting renowned artists.
Overlooking the park square at one end is the Cathedral de la Purisma Concepcion (Cathedral of the Most Pure Conception), dating from 1870, unusual for its two towers – one tall, one short – and French stained-glass windows.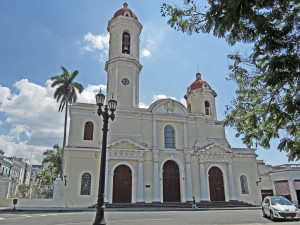 Another fine building on the square, Casa de la Cultura Benjamin Duarte (formerly Palacio de Ferrer), with a dome-shaped cupola, dominates the Cienfuegos skyline when viewed from the port.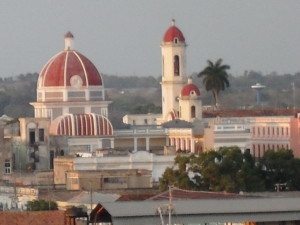 One block from the Park is the newly renovated La Union Club, the town's leading hotel built in
1868, with lovely interior courtyards.  It is furnished in 1940's style suggesting you might expect Sidney Greenstreet to step out from around the corner.  For our group, the hotel was a convenient place to exchange money.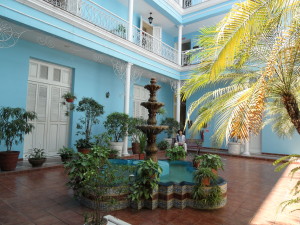 Note: Kiosks to exchange U.S. and other currencies for Cuban currency were available at each of our ports as soon as we stepped off the ship.  At the time of my visit, one U.S. dollar equaled one Cuban CUC (peso) but the government takes a hefty fee.  Do NOT change any more dollars than you are sure to need. For one U.S. dollar I got the equivalent of 87 cents in Cuban currency.  You can convert Cuban currency back to dollars but you will only get 94 cents. In sum, on the two transactions, I lost 19 cents on every dollar.
Cienfuegos, the only deep water port on Cuba's south coast, has a long history as a trading center where, in its early history, it was preyed upon by pirates. After the 1959 Revolution and the Russian presence, the area underwent major industrial development. There's even a half-finished nuclear power plant from the early 1980's intended to lessen the island's dependence on imported oil – and who knows what else.
Attractions Near Cienfuegos  
 About 15 miles east of Cienfuegos are the Botanical Gardens, a national monument, boasting 2,400 species including a great number of palm tree varieties. Begun in 1899, by Edwin Atkins, an American sugar baron, to develop better strains of sugar cane, the gardens became a research center on tropical plants with the assistance of Harvard University in 1919.  An excursion offered by the ship combines a city tour with the gardens.
Another ship excursion travels to Trinidad, Cuba's third oldest city founded in 1514, by Spanish explorer, Diego Velasquez.  Fifty miles away but almost a two hour drive, Trinidad is known for its beautiful setting with waterfalls and forested mountains as its backdrop.  A slave trade and smuggling port for two centuries, Trinidad had become a wealthy center of the sugar industry by the late 18th century and known as the Valle de los Ingenios (Valley of the Sugar Mills).  In 1988, Trinidad and the Valle were added to the Unesco World Heritage list.
Driving through Cienfuegos to lunch, we passed through Punta Gorda, a newer part of the city with the former palaces of Cuba's wealthy elite, dating from the 20th century.  The 30 minute drive took us to Finca Los Colorados, a private beachside restaurant and bed & breakfast inn on the eastern edge of town. The paladar, as such private ventures are known, is situated in the home of the owner, Jose Pineiro Guardiola, whose family were our hosts.  [Recently, Airbnb announced it now has an inventory of over 2,000 paladar in Cuba.]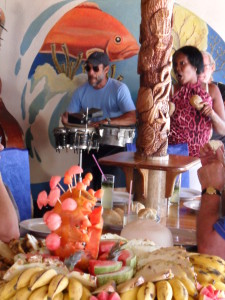 To the music of a great Cuban combo, we dined on an elaborate spread of crab salad, tomato and cabbage salad, grilled shrimp, fish, pork, beef, steamed corn, and fresh fruit and washed down with mojitos and excellent Cuban beer. The music was so infectious, it didn't take long for our group to form a conga line.
The inn offers three bedrooms, a bath with shower, dining room and kitchen, and tables outside in a garden setting for US$35 per person per night.  A rental car would be essential.
Upon our return to Cienfuegos, we made a quick stop at the Sociedad Grafica de Cienfuegos, the workshop of a graphic art cooperative, headed by Rafael Cáceras, a leading Cuban graphic artist. There, we watched his co-workers and student artists  at work and viewed their art available for sale.  Upon our departure, each of our group was given a small print signed by the artist.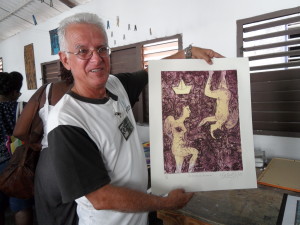 Our last stop was the Provincial Museum bordering Jose Marti Park where we enjoyed a concert by the Cienfuegos Coral Society, a group of young men and women who has performed abroad on exchange  programs.
Cienfuegos is 154 miles and a three and a half hours drive from Havana — a reminder of the ease and comfort of visiting this colonial treasure by ship.
NEXT:  ON TO HAVANA  . . . Days Two and Three