Caribbean Fun-Fact, Foibles, and Fantasies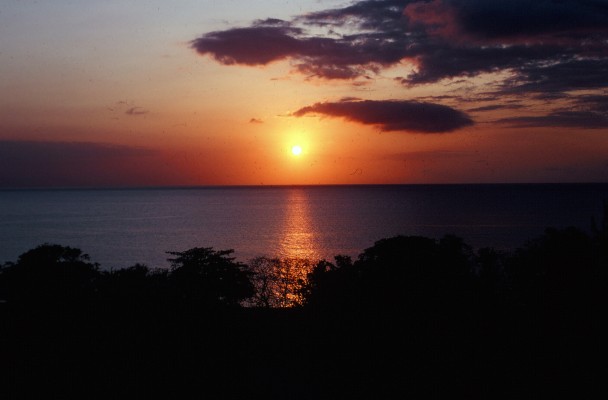 . . . Information you won't see on travel posters. . .    
The Caribbean usually brings visions of palm-shaded beaches, balmy blue skies, and romantic sunsets. But less likely to come to mind are the obscure ­events, unusual people, strange facts, natural phenomena, and amusing fantasies of Caribbean lore that make the region ever more interesting.
What's In A Name?   Ian Fleming, who spent many holidays in Jamaica, named his famous 007 character after author James Bond, whose Birds of the West Indies is a classic for bird-watchers. Fleming, of course, had a very different sort of bird in mind.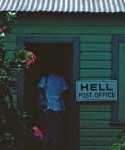 On Grand Cayman, an area of ominous-looking, jagged black rocks was dubbed "Hell" years ago. Today, it has a post office where you can mail postcards stamped from "Hell" and souvenir shops with T-shirts that proclaim you have been to Hell and back. And just ­for the hell of it, you might stop in and have a drink at Club Inferno, a nearby nightclub run by the McDoom family.
Royal Fates And Foolery   Redonda, a one-square-mile, rocky outcropping located between Nevis and Montserrat, is a satellite of Antigua.  But for some, it's been a kingdom — well, almost.  In 1865, Matthew Dowdy Shiell, an Irish sea trader born in Montserrat, claimed the tiny island, declared himself king and passed it on to his son.  No one paid much attention until Shiell's son, who had no heirs, bequeathed the fantasy kingdom to poet John Gawsworth, who in turn distributed peerages to such writers as J.B. Priestley and Lawrence Durrell. The Antiguan government even issued Redonda postage stamps.
In 1979, the island was again in the news when the current monarch, Englishman Jon Wynne-Tyson (Gawsworth's executor and heir) made a visit to reaffirm his over-lordship by planting his flag, which, according to eyewitnesses, was made by Mrs. Wynne-Tyson from pair of her husband's pajamas.
vvvvvvvvvvvvvvvv
While Prince William, Duke of Clarence — later to become King William IV of England — was a young naval officer in Barbados, he and some rowdy sailor friends went carousing once too often.  The drunken revelers made their way to a local brothel and, in their merriment, wrecked the place. The madam, Rachel Pringel, was not amused and the next day, sent the bonnie prince a bill for damages. He paid it without question.
vvvvvvvvvvvvvvvv
Napoleon's Josephine is both revered and reviled in her birthplace of Martinique. La Pagerie, the family manor, is a museum and one of the island's main tourist attractions. Here you can read Napoleon's passionate love letters to her.  For decades a statue of the empress graced the main plaza of Fort-de‑France, the capital, until someone made off with her head. A political  statement, perhaps? Slavery, which was abolished after the French Revolution, was reinstated by Napoleon.  Little wonder the French were reluctant to replace her royal head.
Native Sons    Unless you spent the last year on Mars, you know that Yankee ace Robinson Cano hails from the Dominican Republic as does another Yankee, Alfonso Soriano. But did you know there are several hundred Dominicans playing in the U.S. major and minor leagues, and as many as half come from the small town of San Pedro de Macoris, the hometown of Cano, Soriano and 11 other major leaguers?
But then, Caribbean sons (and daughters) making good in the United States is a tradition as old as the republic.  Alexan­der Hamilton, our first secre­tary of the treasury, was born in Nevis and grew up in St. Croix, U.S. Virgin Islands, which is also the home of bas­ketball star, Tim Duncan. Former Chief of Staff Colin Powell, singer Harry Belafonte, actress Grace Jones and fashion model Naomi Campbell hail from Jamaica.  Actor Sidney Poitier put his native Cat Island in the Bahamas on the map.  But even the most dedicated history buff might miss William Thornton, the designer of the U.S. Capitol building, who was born in 1759, on the tiny island of Jost Van Dyke in the British Virgin Islands.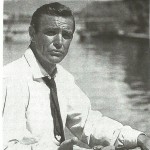 The Hollywood Connection    So many films have been set or partially shot in the Caribbean that it would be impossible to name them all. Among the box-office hits, The Firm was filmed in the Cayman Islands; How Stella Got Her Groove Back in Jamaica.  James Bond has probably been around the Caribbean more than any character. Never Say Never Again and Thunderball, starring Sean Connery, were filmed in the Bahamas; Dr. No and Live and Let Die in Jamaica; Goldfinger in Puerto Rico, to name a few.
Graham Greene's The Comedians, a novel about the macabre days of Papa Doc in Haiti in the 1960s, was made into a movie starring Elizabeth Taylor and Richard Burton.  Much of it was filmed at the Oloffson Hotel, a ginger­bread-trimmed Victorian fantasy in Port-au-Prince, which has also hosted Anne Bancroft, Charles Addams, John Gielgud and Marlon Brando— all of whom had suites named for them.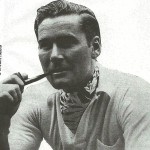 Swashbuckling matinee idol Errol Flynn discovered Jamaica by accident — literally. During a storm, his yacht was blown off course, landing him in Port Antonio. It was love at first sight.  Jamaica became his home (his widow still lives there), and  he is credited with popularizing the  pastime of  river rafting after he saw bananas being transported to market by rafts floating down the Rio Grande.
Forbidden Fruits   If someone tells you "don't sit under the apple tree" in the Caribbean, they are looking out for you, seriously.  The manchineel tree which grows along the sea coast,  is usually marked with red paint for caution because the tree's apple-like fruit is poi­sonous and the milky sap it oozes can blister the skin.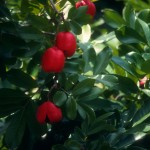 Ackee and salt cod is Jamaica's national dish. But watch out. Ackee, a shiny red fruit, has black seeds that are poisonous until the fruit bursts open naturally. Then its soft, scrambled-egg-like inside is edible.
Cassava, a root crop, is another food that's poisonous until processed properly. After the juice is squeezed out, the meat is washed, dried, grated and used to make bread.  For native Indians throughout the Caribbean, cassava was a staple; ironically, after the Spanish conquest, drinking the poisonous cassava juice became their common method of suicide.
Everyone recognizes bamboo; it's used in craftwork around the globe. The young shoots are eaten as a vegetable and the leaves used as tea for colds. However, a paper-thin sheath that peels away from the bamboo just above each joint has dark brown prickles containing a deadly poison. Apparently, in olden days the poison was used to knock off one's enemies, usually by putting prickles in the victim's drink.
Literary Links   Ian Fleming may have been the most prolific writer to use the islands as settings in his novels, but he's had plenty of company. Ernest Hemingway's home in Cuba is a museum, and the man who was the inspiration for the Old Man and the Sea, once lived in Bimini in the Bahamas. Herman Wouk wrote the hilarious Don't Stop the Carnival after he tried running a hotel in the Virgin Islands.  Jimmy Buffett later wrote an album's worth of songs based on this book.  Bob Shacochis found plenty of inspiration for Easy in the Islands and Swimming in the Volcano after living in St. Vincent and elsewhere in the Caribbean.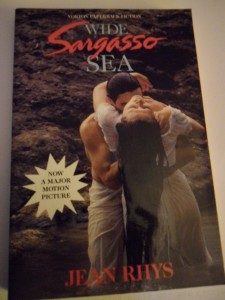 Many of V.S. Naipaul's books — A House for Mr. Biswas and Middle Passage, to name two—concern his native Trinidad. Jamaica Kincaid, author of At Bottom of the River, A Small Place, and others, comes from Antigua; and the late Jean Rhys, writer of Wild Sargasso Sea was from Dominica. The list goes on, but no island can make St. Lucia's boast. With a population of only 150,000, it has produced two Nobel Prize winners: Derek Walcott for literature and Sir W. Arthur Lewis for economics.
Nature's Wonders     Ever wonder what witch's brew looks like? Dominica's Boiling Lake surely fits the bill. The massive cauldron of bubbling gray water shrouded in vapors is the world's second-largest boiling lake.
Nine islands in the Eastern Caribbean—Guadeloupe, Martinique, Montserrat, St. Kitts Nevis, Saba, St. Eustatius, St. Lucia and St. Vincent have volcanoes, but only St Lucia has a "drive-in" one.  The crater is accessible by road, allowing visitors to motor into the volcano, park, and explore the sulfur springs and steam pools on foot.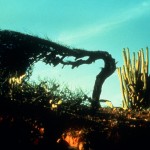 You never need worry about finding your way on Aruba. The ubiquitous divi-divi tree, the island's trademark, grows in an asymmetrical shape pointing west/southwest that's caused by the strong winds blowing mainly from the east/northeast.
The Dominican Republic has both the highest peak in the Caribbean, the 10,414- foot-high Pico Duarte, and the lowest spot Lake Enriquillo, a subterranean lake 85 feet below sea level, which has been called the Western Hemisphere's Dead Sea.  At its center, a 5-mile‑long island provides sanctuary for the endemic American crocodile.
Can You Believe It?    In the I-have-to-see-to-believe-it category, St. Croix has been the home of some beer-drinking pigs. First, there was Miss Piggy, a 1,200-pound sow who entertained folks at the Mt. Pellier Domino Club, an open-air bar and restaurant in the forest.  After she passed on to pig heaven, her offspring went on with the show.  Toss them a beer and they guzzled it, day and night. You could go broke buying them beer before they got tired of drinking it.
During President Clinton's visit to St. Thomas in 1996, he ate at Eunice's Terrace, a restaurant known for local specialties.  Eunice tied a ribbon around the chair in which he sat and added a life-size cardboard cutout of the president's likeness.
Barbados is the only foreign country President Washington ever visited. Poor George contracted small-pox while he was there.  Maybe that's why he decided not to push his luck with further foreign visits.
©  By Kay Showker